News
Cancer Patient Encourages Annual Mammograms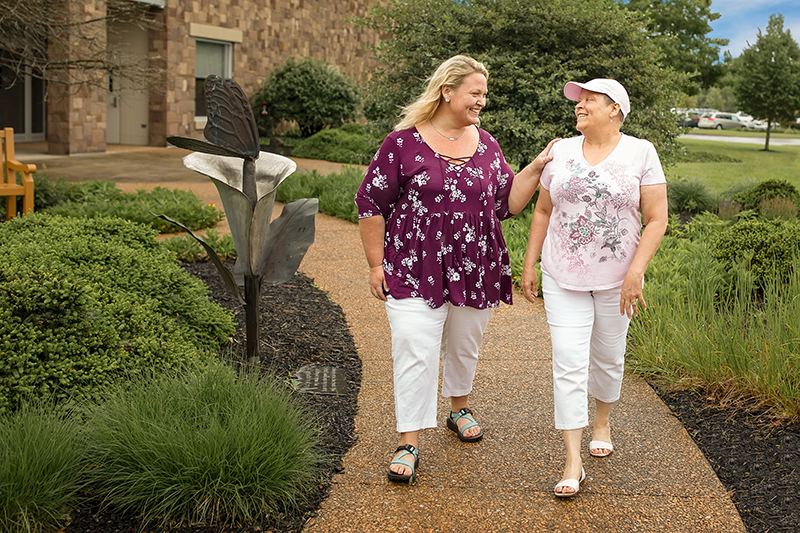 With a busy job and growing family, time had slipped away from 57-year-old Susie Stirn before she realized it had been nearly three years since her last mammogram. Fortunately, after attending Think Pink, MMH's breast cancer awareness event, last October, she was reminded of the importance of the screening and soon scheduled an appointment at MMH's Women's Imaging Center.
"It's a good thing I scheduled when I did," said the Batesville resident. "I had developed an aggressive form of cancer in both breasts – four tumors total. I was scared to death, but the staff at the Cancer Center was great. They cried with me, but then, we made a plan. I decided right then I was going to fight this head on."
Beginning in December, Susie received three months of chemotherapy at MMH's Cancer Center. During that time, she didn't tolerate her treatments well, so much of her care involved managing her side effects through the use of IV treatments, nutrition and massage.
"I felt pretty bad, so I was glad I didn't have to drive far," said Susie. "What impressed me most, though, was the quality of care I received. This Cancer Center is a godsend for our community."
To celebrate the end of her cancer treatment, Susie is already planning a girls' trip to Cabo next spring. In regards to her journey, she offers the following advice:
"Don't sweat the small stuff," Susie said. "Life's too short to focus on the negative. Oh, and don't forget to keep up with those annual mammograms!"
Learn more about our Cancer Center.
Pictured above: Breast cancer survivor Susie Stirn enjoys a walk with her daughter, Jessica Imel, outside Margaret Mary's Cancer Center. While receiving chemotherapy, Susie was grateful her family could accompany her during treatment.