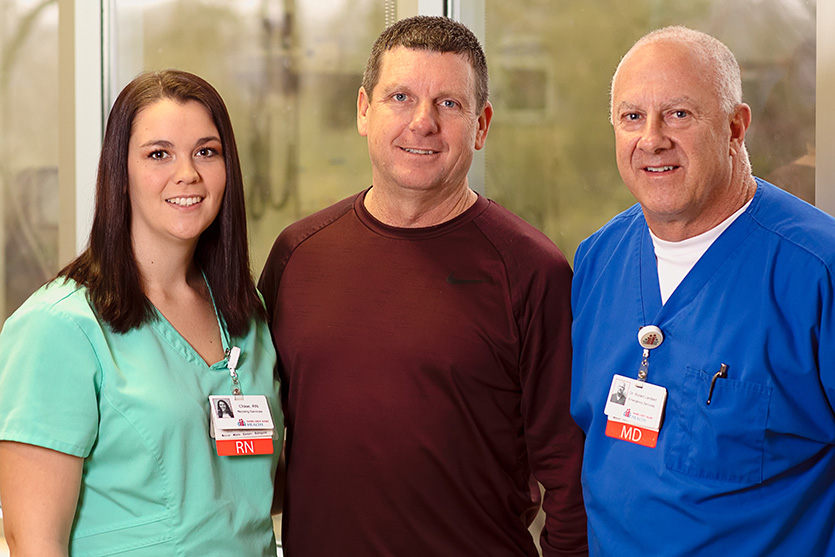 Whether or not you believe in luck, there's something to be said for being in the right place at the right time. Ask stroke victim Neil Dudley of Batesville. Last fall, the ETC employee was working in a Batesville subdivision alongside his coworker, John Loichinger, when he suddenly had trouble talking.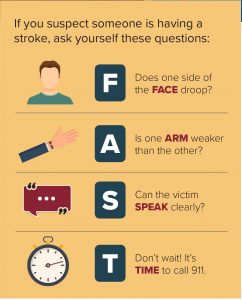 "I felt weird and my words weren't coming out right," said Neil, 53. "I had a couple tools in my hand, and I dropped them. When I went to pick them up, I couldn't grab them. Luckily, John was with me. He knew it was serious and took me to the ER right away."
With an EMT background, John suspected Neil might be having a stroke and acted quickly. A stroke occurs when the blood supply to your brain is interrupted, preventing brain tissue from getting oxygen and nutrients. When this happens, brain cells begin to die in minutes and prompt treatment is crucial. The longer a stroke goes untreated, the greater the potential for brain damage or disability.
When Neil arrived at Margaret Mary's emergency services department, Dr. Robert Lambert and his team quickly confirmed Neil was having a stroke and administered an IV injection designed to restore blood flow to the brain by dissolving the blood clot causing the stroke.
"The ER staff got me stabilized quickly," said Neil. "I remember my nurse, Chloe. She was calm, focused and professional even though there had to be a tremendous amount of pressure on her."
Once stabilized, Neil was transferred to UC Health for further testing and monitoring. For patients who are having a stroke, MMH is proud to partner with the UC Stroke Team. This means our emergency services department has received thorough training to ensure we are prepared to recognize and treat stroke patients quickly and effectively.
"I was in the right place at the right time," said Neil. With my job, I can be working far from the hospital and often alone. I give all the credit to my buddy, John, and the ER staff for reacting so quickly. I recovered in less than two weeks with no side effects.
"I'm only 53," added Neil. "At my age, you take a lot for granted. When something like this happens, you realize life is short."
Pictured above is Neil with his nurse, Chloe, and Dr. Robert Lambert.