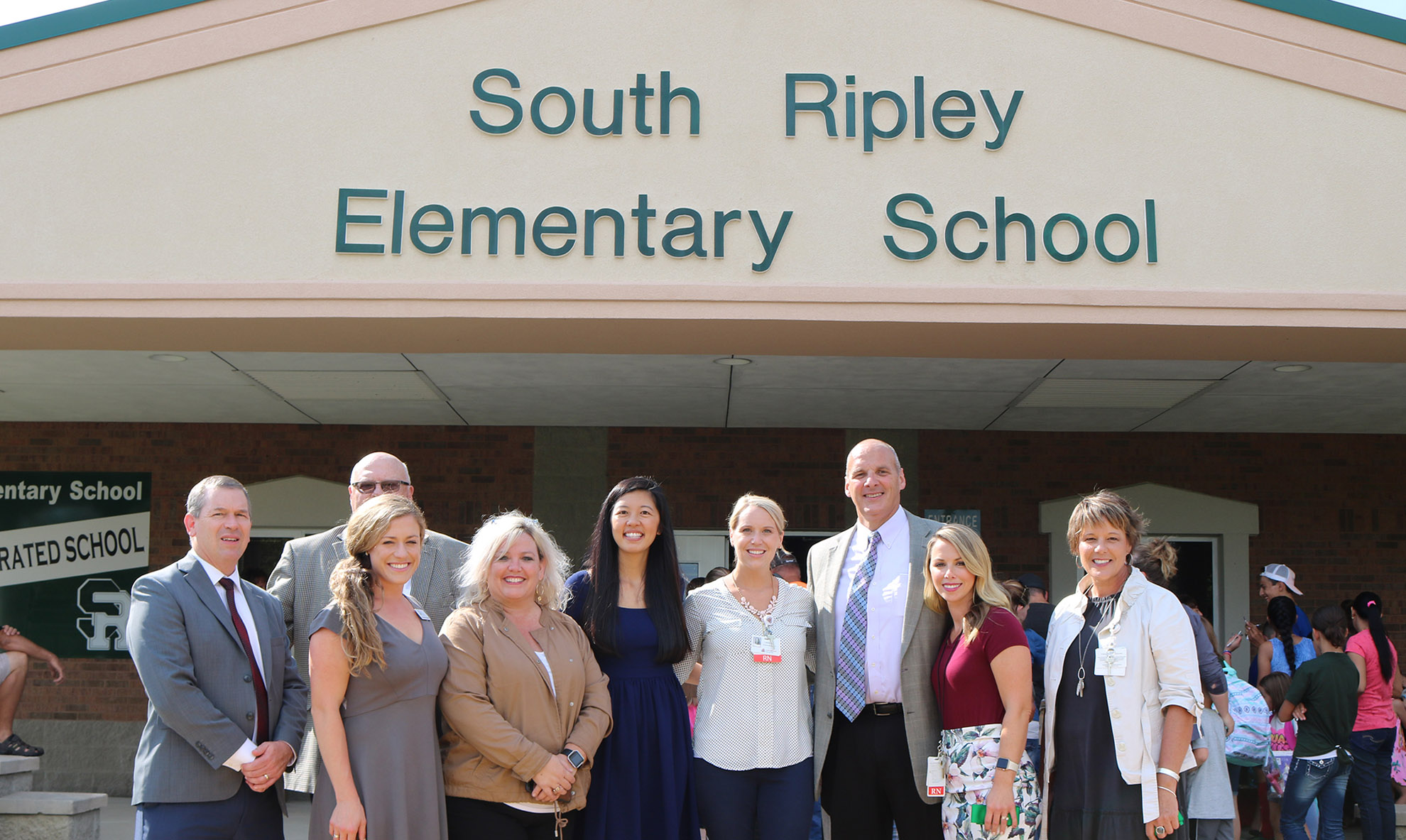 On Aug. 2, South Ripley School Corporation, in partnership with Margaret Mary Health and the Indiana Rural Health Association, held a ribbon cutting to celebrate the launch of the first school-based telehealth program in southeast Indiana. Through the use of telemedicine-enabled scopes and videoconference software, the program enables South Ripley students who are ill to be seen by an MMH pediatrician without having to leave school. The program was made possible thanks to a grant administered by the Indiana Rural Health Association.
"We have broken many barriers for our community by implementing telehealth," said South Ripley's school nurse, Marie Menchhofer. "This technology provides a new level of medical services we can provide our students onsite. Parents can connect to medical visits without leaving work, and we can address medical issues as they arise during the school day. This is one more tool I can use to keep our students healthy. For some of our families, this program not only makes access to healthcare possible, it makes it convenient."
With assistance from Menchhofer, MMH's pediatricians are able to use the telehealth technology to diagnose and treat minor injuries and acute illnesses, including strep throat, ear infections, rashes, pink eye and the flu. Parental consent must be obtained in advance, and fees are billed directly to insurance.
"We appreciate South Ripley School Corporation for putting trust in us to deliver this innovative program to the community," said Margaret Mary Health President Tim Putnam. "Telehealth services provide students direct access to our pediatricians while eliminating common barriers to care like transportation or scheduling problems. Ultimately, this should lead to less sick days and improved health for students."
###
Pictured: Present at the ribbon cutting on Aug. 2 were Tim Putnam, MMH President; Don Kelso, IRHA Executive Director; Kathleen Chelminiak, IRHA Project Director; Julie Keene, MMH Vice President of Physician Services; Kristina Wang, MD; Laura Padgett, RN; Rob Moorhead, South Ripley School Corporation Superintendent; Marie Menchhofer, RN and Geralyn Litzinger, RN.