Who is Eligible to Receive the COVID-19 Vaccine?
If you answer 'yes' to any of these questions, you are eligible to receive the COVID-19 vaccine:
Are you age 16 or older?
Do you work or volunteer in healthcare and have (physical or close) contact or face-to-face interactions with patients? Examples include:

Inpatient, outpatient, provider office setting, nursing homes, residential care facilities, assisted living facilities, in-home services
This includes all clinical and non-clinical positions: clinicians, dietary, environmental services, administrators who have direct contact with patients, clergy who see patients in the healthcare setting, non-clinicians who assist in procedures, transportation staff, etc.
This also includes local health department staff who interact with patients at test sites, health clinics or provide direct patient care

Do you have exposure to COVID-19 infectious material? (Examples include cleaning of rooms or material from COVID-19 patients, performing COVID-19 testing, other exposure to infected tissue, performing autopsies or other post-mortem examinations of COVID-19 patients.
Are you a teacher?
Register For Your Vaccine
An appointment is required to receive your vaccination and can be made online. Please be patient, as vaccine supply is limited. If you have difficulty registering online or if you know someone eligible to get vaccinated who doesn't have access to a computer, please dial '211' from any phone to register. You can also contact your MMH primary care provider's office for assistance with scheduling.
Our Vaccine Distribution Location, Dates & Times
Tuesdays, Wednesdays & Thursdays Through May 27:
Batesville Street Department
514 S John Street
Batesville, IN 47006
This is a drive-thru clinic located in the Batesville Street Department garage. You will need to enter from Delaware Road. Click map for details.
Hours of Operation:
Tuesday - 8 AM to 7 PM
Wednesday - 8 AM to 12:30 PM
Thursday - 8 AM to 7 PM
For more information on traffic flow and what to expect at your appointment, watch our video.
Inclement Weather Policy
The COVID-19 Vaccine Clinics will not close due to inclement weather unless Ripley County is under a Level Red Travel Warning where travel is restricted to emergency management workers only.  If this occurs, patients will be contacted to reschedule their appointments.
Preparing for Your Vaccine
To help you prepare for your vaccine, please keep in mind the following tips:
Bring a valid ID.
Wear clothes that allow easy access to the top part of your arm for injection.
Wear a mask.
Tell the vaccine provider if you are ill or have ever had a severe allergic reaction.
Following vaccination, please be aware you must wait onsite for 15 minutes to monitor for adverse reactions.
For more information, visit ourshot.in.gov.
COVID-19 Testing
If you are exhibiting symptoms of COVID-19 and would like to be tested, please call your provider. They may schedule you for an appointment to be seen, OR they may send an order for a COVID swab to the hospital lab. If your provider sends an order for you to be tested, please go to the Main Campus lobby in order to be registered.
Other Testing Options
Click here to view a list of additional locations available for COVID-19 testing. If you choose to use a testing site not affiliated with MMH, please be aware your healthcare provider may not receive your test results. Testing site details change frequently. To ensure you have the most up-to-date information about these sites, visit the Indiana State Department of Health website. Testing is also available through Minute Clinic at CVS Pharmacy.
Current Visitor Restrictions & Guidelines


As of 2.8.2021
For the protection and safety of our patients, team members and the community, we will continue to limit visitors and closely adhere to the below guidelines until further notice. Visitors who do not follow these guidelines may be asked to leave the facility.
Patients & support person(s) will be screened by MMH personnel at entrances and must pass the screening criteria before being allowed into the facility.
Patients and visitors are required to wear a mask at all times upon entry to all MMH facilities.
No visitors/support person(s) under the age of 16 will be permitted (including the children of OB patients).
Exceptions may be made for end-of-life situations or in special circumstances. Please check with MMH staff.
The MMH Café is closed to the public and limited to staff, patients and support people.
Emergency Department
ER patients patients may have one (1) family member/support person.
Pediatric patients (under the age of 18) may have two (2) family members/support people.
Support person is not permitted for patients with suspected or confirmed COVID-19 and patients in airborne or enhanced droplet isolation (exception for pediatric patients).
Hospital Inpatient Care
Med/Surg and Special Care patients may have one (1) designated visitor (must be 16 or older) per day.
OB patients may have one (1) support person (must be 16 or older).
Admitted pediatric patients (under the age of 18) may have two (2) support people.
Hospital Inpatient Care (Continued)
Support person is not permitted for patients with suspected or confirmed COVID-19 and patients in airborne or enhanced droplet isolation (exception for pediatric patients).
Outpatient Procedures, Physician Practices & Rehab Center
Patients (18 years of age and older) should attend appointments on their own, including radiology and lab services.
Patients who will be undergoing anesthesia or sedation are permitted to bring one (1) support person in the facility to wait for them.
One (1) support person may accompany a patient who needs assistance due to ambulation (wheelchair, cane, etc.) or cognitive impairment(s).
Pediatric patients (under the age of 18) may have two (2) support people.
There are times when it's appropriate for patients to have a family member/support person present at other healthcare appointments. In these instances, one (1) person may accompany a patient with prior approval from MMH medical staff.
Cancer Center
Patients are allowed one (1) support person for office visits only.
Our Safety Precautions
We want to reassure the community the health, well-being and safety of every patient, visitor and team member is our highest priority. During the COVID-19 pandemic, MMH is adhering to the guidelines set by the Centers for Disease Control and Prevention (CDC) and taking the following safety precautions to protect all patients and staff: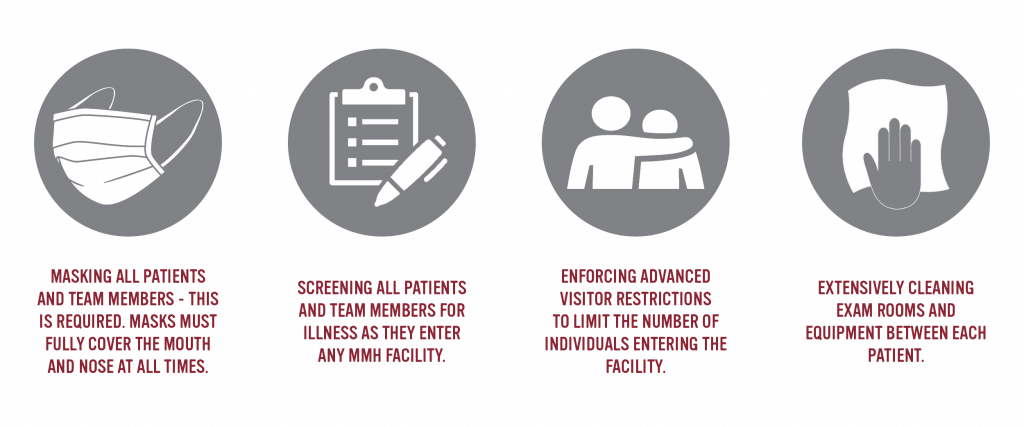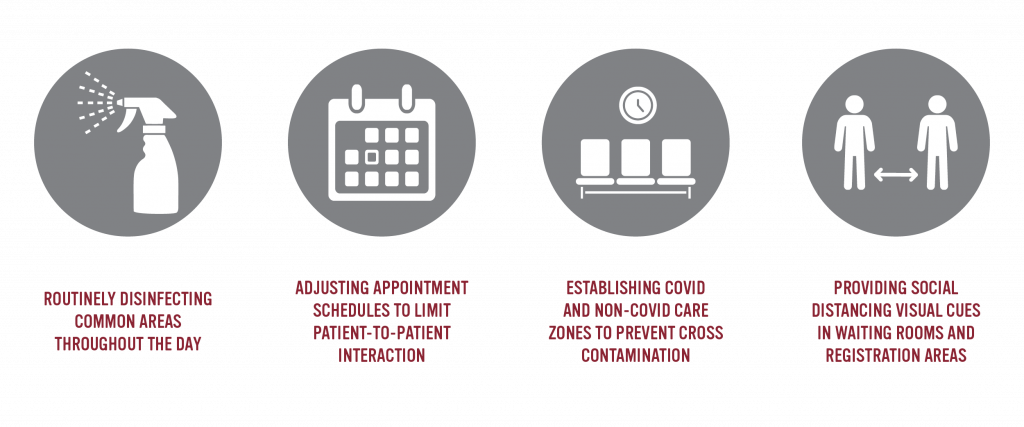 When appropriate, our staff is also taking the following precautions:
Sending text notifications for patients waiting in vehicles to come directly in for appointment with no wait.
Scheduling telehealth follow-up visits.
Completing patient pre-registration over the phone from home.
Registering patients over the phone from their vehicles.
Keeping Yourself Safe
COVID-19 is usually spread from close person-to-person contact through respiratory droplets from coughing and sneezing. The virus can also be spread through airborne transmission, when tiny droplets remain in the air even after the ill person leaves the area. The best way to protect yourself is to follow the tips below.
Wash your hands frequently and thoroughly using soap and water for at least 20 seconds. Use alcohol-based hand sanitizer if soap and water aren't available.
Cough or sneeze into a tissue or flexed elbow, then throw the tissue in the trash.
Avoid touching your eyes, nose or mouth with unwashed hands.
Avoid close contact with people who are sick, sneezing or coughing.
Stay home when you're sick.
Clean and disinfect surfaces and objects people frequently touch.
On Feb. 10, the Biden-Harris Administration announced Margaret Mary Health President and CEO Dr. Tim Putnam will be one of 12 members who serve on its COVID-19 Health Equity Task Force. Representing a diversity of backgrounds and expertise, the task force is charged with reviewing the challenges associated with COVID-19 for all Americans, with a […]
In accordance with the new guidelines provided by the State of Indiana, any Hoosier age 65 and older, first responders (fire, law enforcement, emergency medical services, reservists and volunteers) who have in-person contact with the public, and licensed and unlicensed healthcare workers who have in-person contact with patients or infectious material in any healthcare setting […]
MMH has been working diligently with the Indiana State Department of Health (ISDH) over the last several weeks, preparing to administer phase one of the COVID-19 vaccine distribution plan upon approval of the vaccine. The phase one individuals include all healthcare workers, with MMH specifically serving those living in Ripley, Franklin, Dearborn, Ohio and Switzerland […]
1.19.21 | If your upcoming COVID-19 vaccine is scheduled at the Batesville Street Department location, this video is for you! Watch for more information on traffic flow and what you can expect at your appointment. 
1.18.21 | Watch as MMH Providers share their insights on the effectiveness of the COVID-19 vaccine and common misconceptions.
About COVID-19
Coronaviruses are a family of viruses which can cause illnesses such as the common cold, severe acute respiratory syndrome (SARS) and Middle East respiratory syndrome (MERS). In 2019, a new coronavirus was identified as the cause of a disease outbreak in China. The disease it causes is called coronavirus disease 2019 (COVID-19).
Symptoms may develop within 14 DAYS OF EXPOSURE. Only DESIGNATED LAB TESTS can diagnose the virus. In rare cases, COVID-19 can lead to severe respiratory problems, kidney failure or death. If you are experiencing signs or symptoms of COVID-19 and feel you need to be seen by a physician, please CALL the office or location IN ADVANCE.
If immediate emergency care is needed, call 911 and tell the dispatcher you may have COVID-19.

Learn More About Coronavirus Disease 2019
We are working closely with our state and local healthcare providers to identify, care for (if needed), monitor and prevent the potential spread of COVID-19 in our community.