For Patients
At Margaret Mary Health, we are committed to providing quality, compassionate care for those we serve.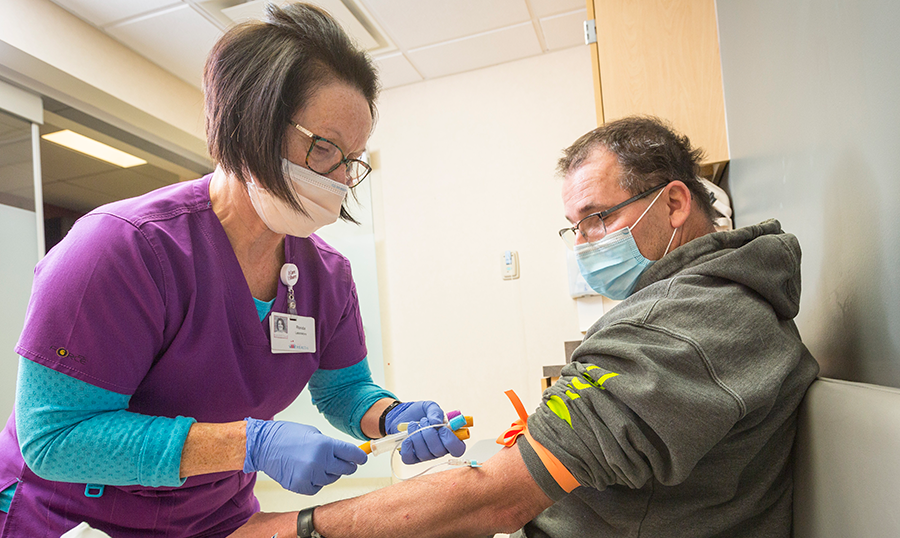 Manage Your Health Information Online
The MMH patient portal offers free, confidential, 24-hour access to your protected health information.
Our Singular Focus On People
Each time you step foot in an MMH facility, we want you to have a positive experience.
Pay Your Bill
Learn about payment options and financial resources available to help you manage your healthcare expenses.
Appointment Checklist
Depending on the reason for your visit, this list can help you prepare.
Be sure you gather and bring any relevant paperwork, including copies of tests and x-rays.
Insurance companies often require prior-authorization or pre-certification, which means you must notify them before admission to the hospital or within 48 hours of an emergency admission. Please contact your insurance company to determine any network limitations or requirements. For a complete list of health insurance companies where MMH is an in-network provider, view Bill Payment.
Be prepared to provide our clerks with the following registration information:

Insurance company/cards
Current address and phone number
Social Security number
Driver's license
Date of birth
Emergency contact information
Next of kin information
Employer information

Bring a list of all the medications you are currently taking.
Do not forget to follow any special instructions you may have been given regarding diet/medication.
If necessary, ask a friend or relative to accompany you to your appointment.
Smoking Policy
MMH is a tobacco-free facility. For the safety and health of our patients, visitors and team members, smoking and the use of tobacco products is not permitted anywhere in the hospital or on hospital grounds.
Visiting Hours
Due to COVID-19, our visiting hours are currently 9 AM to 7 PM. Additionally, no visitors under the age of 16 will be permitted. Learn more about our COVID-19 Visitor Guidelines here.
At MMH, we encourage family and friends to visit loved ones who are in the hospital. Although visitation is flexible in most areas, we do require those who visit our maternity unit to be at least 12 years of age. Of course, this rule does not apply to children who are siblings of our newborns. For the protection of our patients, visitor restrictions may also be implemented during flu season.
The main entrance of the hospital is open from 6 a.m. to 9 p.m., Monday-Friday, and 7 a.m. to 9 p.m. on the weekends. The information desk is staffed during those hours. When the main entrance doors are locked, please enter through the Emergency Services Department.
During your visit, please be sure to control noise levels and be respectful of those around you. Individuals who are ill or do not feel well should also refrain from visiting.
Our Café
NOTE: Due to COVID-19, the café is currently closed to the public.
Those visiting patients, however, are encouraged to dine in our café or simply use it for breaks. The dining room area is open all day, however meal times are as follows:
Hot Breakfast:
7a.m. - 9:30 a.m.
Continental Breakfast:
9:30 a.m. - 11:00 a.m.
Lunch:
11:15 a.m. - 1:30 p.m.
Dinner:
4:45 p.m. - 6:30 p.m.
Interpreter Services
If you are in need of a language interpreter or sign language assistance, please notify a registration clerk or your admitting nurse. (Si usted está en necesidad de un intérprete del lenguaje o firma ayunda del lenguaje, notifique por favor un vendedor del registro, su enfermera que admite, o preferiblemente la llamanda por adelantado de la colocación así que pondemos acomodarle.)