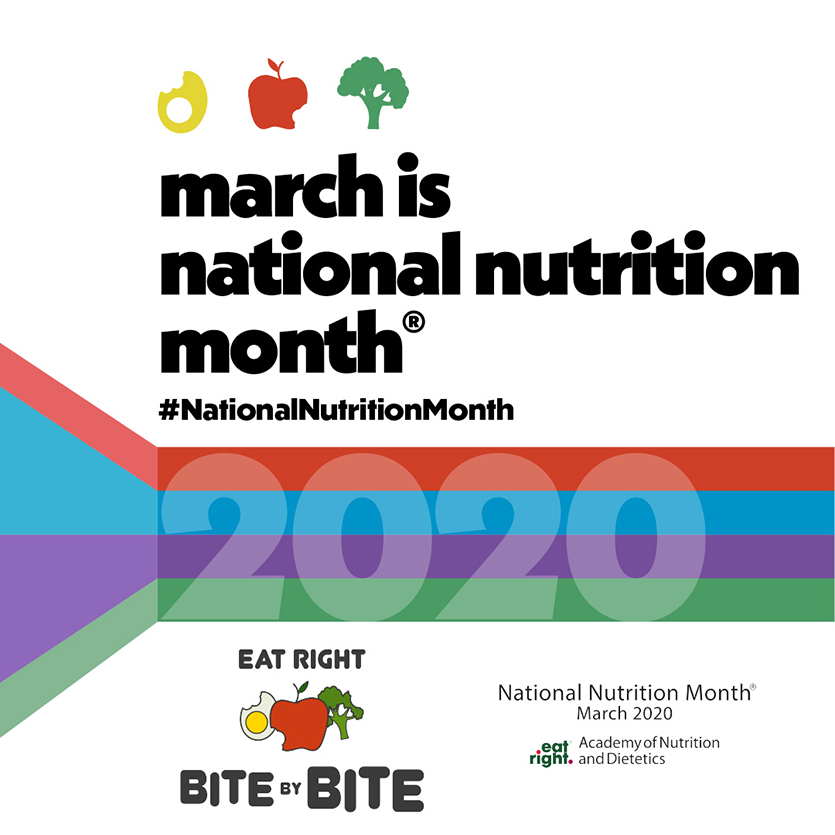 March is an exciting time for our dietitians because its National Nutrition Month! Each year the Academy of Nutrition and Dietetics chooses a theme to celebrate. For 2020, the theme is 'Eat Right Bite By Bite.' The focus is encouraging people to make small changes in their lives which lead to big results! To help, the Academy has a handout with 20 tips to get you started. Below are our dietitians favorite tips and advice.
Be sure to visit the MMH Cafe on Wednesday, March 11 for a special theme meal featuring the return of a menu favorite – Bowl Meals!
Our Dietitians Favorite Health Tips
Eat Breakfast
Start your morning with a healthy breakfast which includes lean protein, whole grains, fruits or vegetables. Try making a breakfast burrito with scrambled eggs, salsa, a whole wheat tortilla and a sprinkle of cheese, or a parfait with plain yogurt, fruit and whole grain cereal or nuts. "Breakfast is my favorite meal! I love whole grain toast with peanut butter and a homemade protein smoothie. I aim to get 20 grams of protein and 10 grams of fiber at breakfast to feel my best. Keep in mind, you can eat 'regular' foods for breakfast, too! Try salads or grain bowls with vegetables and eggs." ~ Adrienne Found, RD
Get Cooking
Preparing foods at home can be healthy, rewarding and cost effective. Master some kitchen basics like dicing onions or cooking dried beans. "One day a week, I roast a big batch of different vegetables and use them throughout the week in meals. By doing this, it shortens my time in the kitchen, and I make sure to get more vegetables in at meals." ~ Christy Minges, RD
Fix Healthy Snacks
Healthy snacks can sustain your energy levels between meals, especially when they include a combination of foods. Choose from two or more of the MyPlate food groups: grains, fruits, vegetables, dairy and protein. "My favorite snacks are raw veggies and hummus/guacamole, cottage cheese with berries, or an apple with peanut butter." ~ Melissa Bischoff
Explore New Foods and Flavors
Add more nutrition and eating pleasure by expanding your range of food choices. When shopping, make a point to selected fruits, vegetables or whole grains new to your or your family. "Consider subscribing to Hello Fresh or Blue Apron for one month. These are services which send you all the ingredients you need to prepare a meal for two people. You also get a recipe card. This is sort of like a cooking class in a box – you'll be educated and inspired to try new things! If you find something you like, you can then purchase the necessary ingredients. It will expand your taste and flavor palette." ~ Kathy Cooley
Drink More Water
Quench your thirst with water instead of drinks with added sugars. Stay hydrated and drink plenty of water, especially if you are active, an older adult, or live or work in hot conditions. "I pack my water needs for the day in ball jars and have it on my desk to remind me to drink. Plain water works, but I choose spiced water or fruit-infused water for added nutrients. To learn more about those recipes, attend our Live Well Now class beginning March 31!" ~ Sarah Heffron
For more information, contact Adrienne Found, RD.