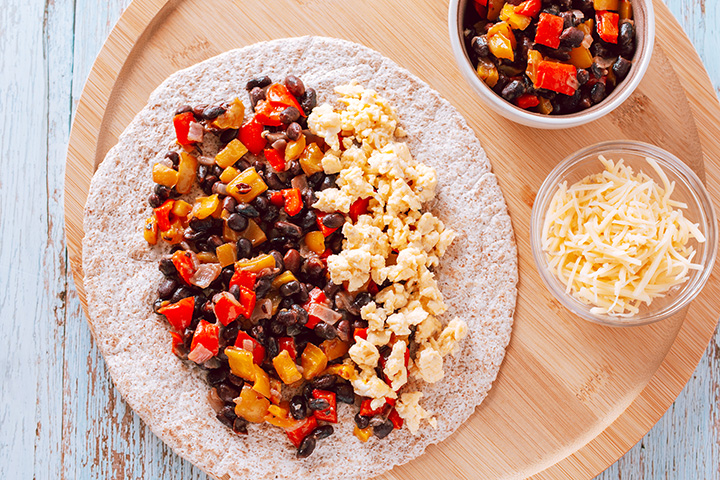 Ingredients:
3 green onions, sliced
1 medium red or green bell pepper, chopped
1 medium clove garlic, minced
2 ounces low-fat cheddar cheese
1 (15½-ounce) can black beans, no salt added, drained
1 teaspoon canola oil
4 large eggs
¾ teaspoon ground cumin
¼ teaspoon ground black pepper
4 (8-inch) whole-wheat flour tortillas
Instructions:
In a skillet over medium heat, heat oil. Add beans, green onions, bell pepper and garlic. Cook until peppers are soft, about 3 minutes. Add ½ teaspoon ground cumin and black pepper. Transfer mixture to a plate.
In a small bowl, crack eggs. Add remaining ¼ teaspoon cumin. Beat mixture lightly with a fork.
Wipe out skillet with a paper towel. Coat with non-stick cooking spray. Heat at medium-low. Add egg mixture. Cook, stirring occasionally, until eggs are firm as you like, about 3-5 minutes. If using cilantro, add now.
Spoon egg mixture into the center of each tortilla, dividing evenly. Add beans and veggies. Sprinkle cheese on top. If using yogurt, add a dollop to each tortilla.
Fold tortilla over mixture and serve.