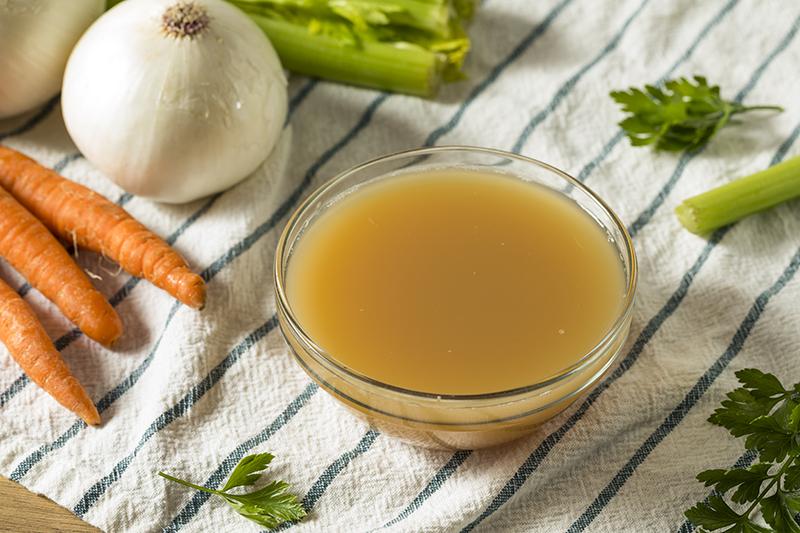 Once you're done with your Thanksgiving turkey, the carcass can be used to make a great bone broth. Don't throw away all the healing nutrients and flavor! Bone broth can be sipped on by itself as a warm drink, added to your favorite soups or stews (1/2 water or tomato juice and 1/2 broth), or use it instead of water to make rice or other grains – this really powers up the nutrition by adding protein and nutrients to your grains.
Easy Turkey Bone Broth
1 large turkey carcass – large
2 TBSP apple cider vinegar
1/2 lemon – quartered
1 large onion – coarsely chopped
2 carrots – coarsely chopped
3 celery stalks – coarsely chopped
1 bunch parsley
Vegetable scraps, leftover vegetables, bay leaves, sliced ginger root, garlic – optional
1/8 tsp salt
6 quarts water or enough to completely fill pot
Remove meat from the leftover turkey carcass and reserve for later dishes. Place carcass (including all bones, cartilage, neck and feet – if available) in a seven-quart stockpot or dutch oven with lid.
Pour apple cider vinegar and squeeze the lemon quarters over the carcass, then toss the rind in the pot. Add salt to the pot, then fill to the bring with water, stopping just short of the lip of the pot. Allow to sit for 20 minutes. Add all the vegetable except for the parsley. You can add leftover vegetables and vegetable scraps to the pot.
Bring the pot to a boil, skim and discard any frothy residue from the pot. Reduce the heat to low or low-medium to bring the broth to a simmer and cover. Allow the turkey bone broth to simmer for 8 to 12 hours, stirring occasionally. Periodically check on the broth to ensure the liquid is not evaporating too quickly, in which case drop the temperature and add a little more water to the pot. By the end of the 12-hour period, the liquid should be reduced by about half. Add the parsley for the last 10 minutes.*
Once the liquid has slowly simmered and reduced by half, strain the turkey broth through a fine mesh strainer to separate the broth from the solids. Allow the strained turkey bone broth to cool at room temperature before placing in the fridge. Store. This will keep up to four days in your refrigerator. It freezes beautifully to be used in soups all winter. Store in pint-sized jars filled 2/4 full to prevent breakage. Cool completely in the refrigerator before placing the jars in the freezer.
*Alternately, you can put all the ingredients in a crockpot. Start on high until it reaches boiling, then turn down to low and cook for 12 to 24 hours.