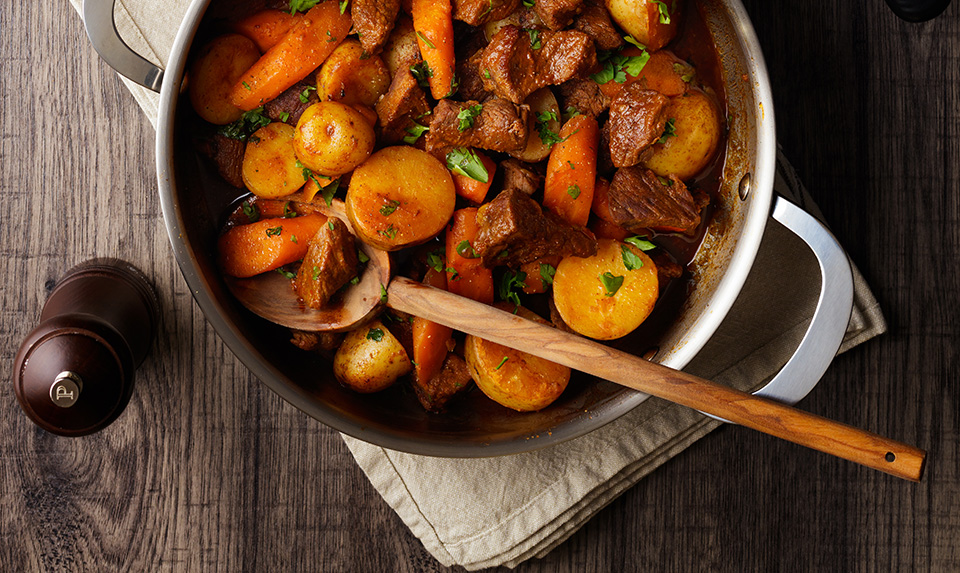 Looking for a hearty, nutritious meal to feed the family? Try slow-cooker beef stew. This delicious option is an excellent choice to come home to after a busy day.
INGREDIENTS:
Beef stew meat
Avocado oil or olive oil
Root vegetables – potatoes, parsnips, and carrots (but feel free to change up the root vegetables with whatever you prefer)
Yellow onion and garlic cloves – aromatic additions for delicious flavor
Diced tomatoes
Beef broth
Dried thyme – may substitute 1 tablespoon fresh thyme leaves
Dried rosemary – may substitute 1 tablespoon chopped fresh rosemary
Green beans – use fresh or frozen
Salt and black pepper
Cornstarch – optional for thickening; see tip below on how to make this stew a thicker consistency.
STEPS:
Sauté the beef cubes in a skillet. This helps to hold in the juicy flavors.
Add ingredients to the slow cooker. Along with the beef, add the onion, potatoes, parsnips, carrots, garlic, diced tomatoes, broth, thyme, and rosemary to a slow cooker. Stir and cook on LOW heat for 8 hours or HIGH heat for 4 hours. We like to stir the green beans in towards the end of the cooking time so that they don't become too soft. Season with salt and pepper to taste.
Thicken the stew. Optional step for thickening: Remove 1 cup broth from the slow cooker and add to a small saucepan over medium-high heat. Whisk in the cornstarch and bring to a simmer until thickened. Remove from heat and slowly drizzle and stir the cornstarch mixture into the stew in the slow cooker. Cover and cook for an additional 15-20 minutes.
Serve and garnish with fresh herbs, if you wish