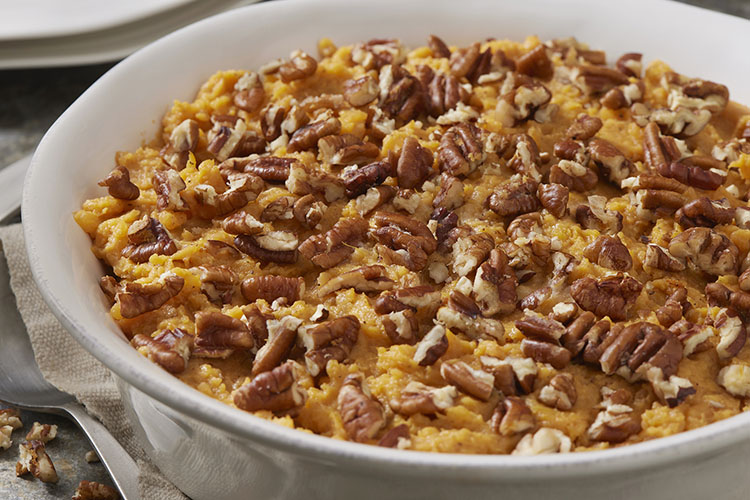 Looking for a healthier Thanksgiving dish your family will love? Try this sweet potato casserole:
Ingredients:
For the sweet potato filling:
2 1/2 lbs. sweet potatoes (about 4 medium sweet potatoes)
1/4 cup maple syrup
1/3 cup dairy or non-dairy milk
1 1/2 tablespoons butter, melted
1 teaspoon sea salt
1/2 teaspoon ground cinnamon
1/4 teaspoon ground nutmeg
1/4 teaspoon chili powder
2 whole eggs
For the topping:
1 cup pecans (1/2 cup chopped + 1/2 cup halves)
3 strips bacon, cooked and chopped
1 tablespoon butter, melted
1/2 teaspoon ground cinnamon
Pinch of nutmeg
Pinch of salt
Instructions:
Preheat oven to 375 degrees. Grease a 9- or 10-inch baking dish and set aside.
Bake sweet potatoes in the oven for 40-50 minutes or until soft and cooked through.
While sweet potatoes bake, in a small bowl, add the topping ingredients, except bacon, and mix to combine. Set aside.
When sweet potatoes are done, remove from oven and let set for 5 minutes.
After 5 minutes, remove outer skin from sweet potatoes and add to food processor or large bowl. Mix well.
Add the rest of the filling ingredients, except eggs, and process or mix until smooth. Next, add eggs and mix again.
Transfer filling to baking dish and spread out evenly. Top with pecan mixture.
Cover with foil and bake for 30 minutes. Remove foil, add cooked and crumbled bacon; bake for 10-15 minutes more. Serve warm.