News
Margaret Mary Health to Provide Intensive Outpatient Services for New Ripley County Courts Addiction & Drug Services Program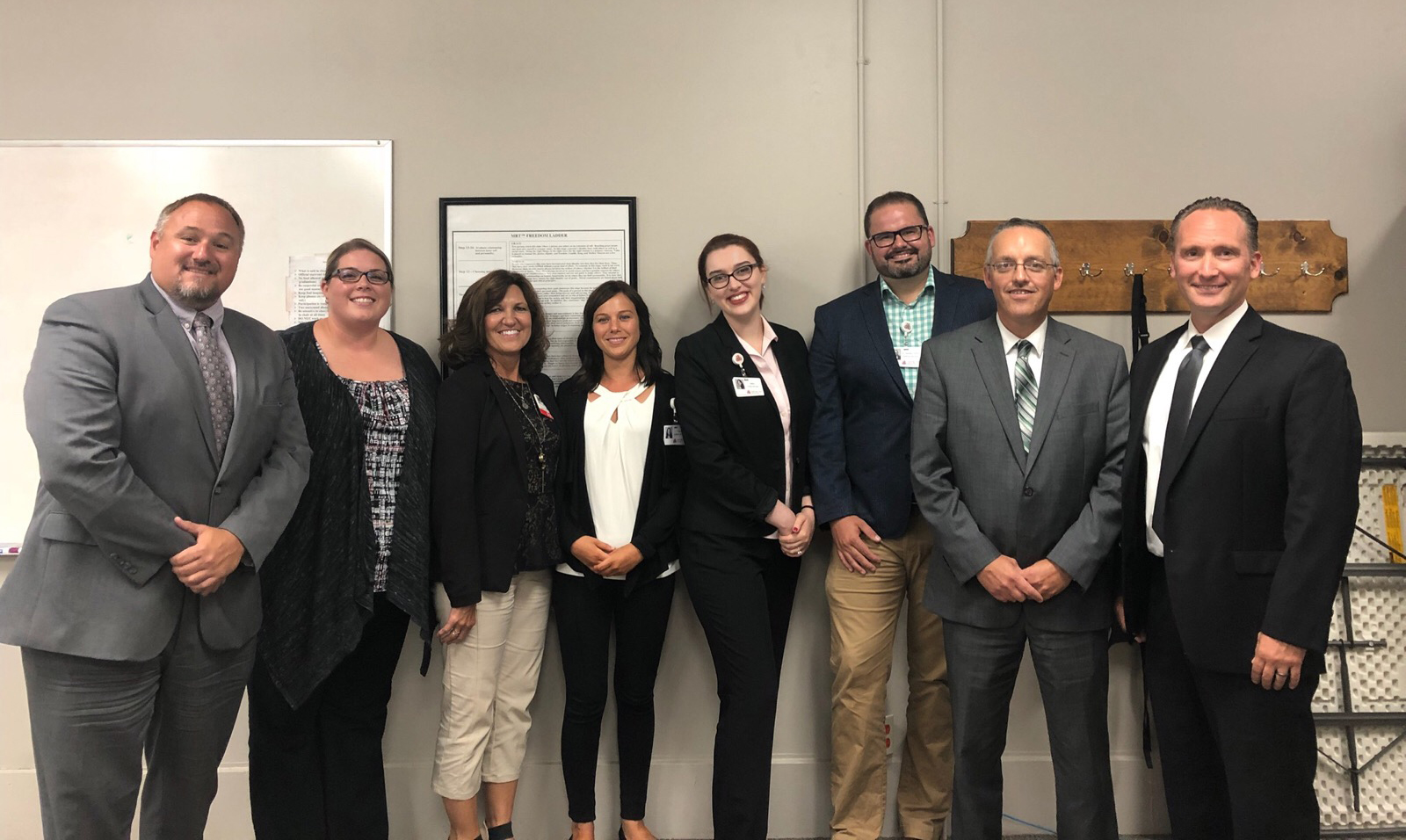 Pictured (Left to Right): Jeffrey Sharp, Ripley County Superior Court Judge; Jenny Wise, Assistant Director of Ripley County Court Services; Bonnie Ploeger, MMH Director of Quality and Risk Management; Tracy Craft, MMH Peer Recovery Coach; Nikki King, MMH Manager of Behavioral Health and Addiction Services; Joshua Harrison, PsyD, HSPP, MMH Clinical Director; Shannon Schmaltz, Director of Ripley County Court Services; Ryan King, Ripley County Circuit Court Judge  
Margaret Mary Health (MMH) will begin providing intensive outpatient services for the Ripley County Courts Addiction & Drug Services (CADS) program on October 1, 2018. A newly developed program by Ripley County Court Services, the CADS Program will enhance the present outpatient substance abuse program by extending the length of the program from 3 hours per week to 9 hours per week and incorporating direct oversight by a doctor, clinician and peer recovery coach. In addition to treatment, the program will receive behavioral modification support from Court Services, including random weekly drug screens, probation officer supervision, home visits, administrative sanctions and incentives, and report filings to the Court.
Substance abuse is a known health issue facing local communities and the need for more aggressive intervention and support exists. According to Ripley County Superior Court Judge, Jeffrey Sharp, "The level of drug and alcohol related criminal charges has risen to more than half of all felonies filed in Ripley County in 2017. On top of that, 65 percent of all probation violations were drug and alcohol related. This program will provide the court an extra tool of supervision for individuals convicted of drug-related offenses and is certainly the most comprehensive treatment program I have seen implemented."
As a recently added service at MMH, the addiction services team has invested a significant amount of time in developing an intensive outpatient program that combines the best practices of leading programs across the country. According to MMH Clinical Director, Dr. Joshua Harrison, PsyD, HSPP, "This is a multi-faceted program incorporating therapy, skills training, guest speakers, peer support and family support to help these individuals regain confidence and reclaim their lives from the grip of addiction."
"The CADS program is an evidence-based approach to confronting the substance abuse crisis. This type of program is proven to be the most effective treatment regimen and, as a result, CADS is able to give addicts the tools they need to overcome their addiction and become productive members of the community again," noted Ryan King, Ripley County Circuit Court Judge. "Data will be closely monitored to track program success and thereafter inform any changes that could be made. By combining the treatment knowledge of MMH with the supervision of Court Services and the accountability required by the Courts, we're leading the way in developing an approach to best realize positive outcomes for participants suffering from addiction."
An important distinction between the CADS Program and other intensive outpatient programs is the addition of a Peer Recovery Coach. "Being able to connect with individuals and support them in their journey through recovery is something I'm very passionate about," said Tracy Craft, MMH Peer Recovery Coach. "I've been there … I understand the highs and lows and what it takes to get clean and stay that way. I'm thankful to have the opportunity now to help others overcome their challenges and find their reason to stay sober."
The CADS Program is purpose driven and will focus on the participant's individual accomplishments to determine program completion versus a set length. Graduates of the program will be awarded a certificate of completion from Judge King and Judge Sharp in a ceremony with friends and family. Shannon Schmaltz, Director of Ripley County Court Services added, "This is an opportunity for many community members and their families to bring hope to hopelessness."
"We saw the need and felt the obligation to join the fight against drug abuse that is so prevalent in our community and surrounding areas," said Tim Putnam, CEO of MMH. "We are in a unique position to be able to assist Court Services with changing outcomes. This partnership brings the right resources together to truly make an impact and save lives."
To learn more about Margaret Mary's Addiction Services Program or the Ripley County CADS Program, call 812.933.5406.