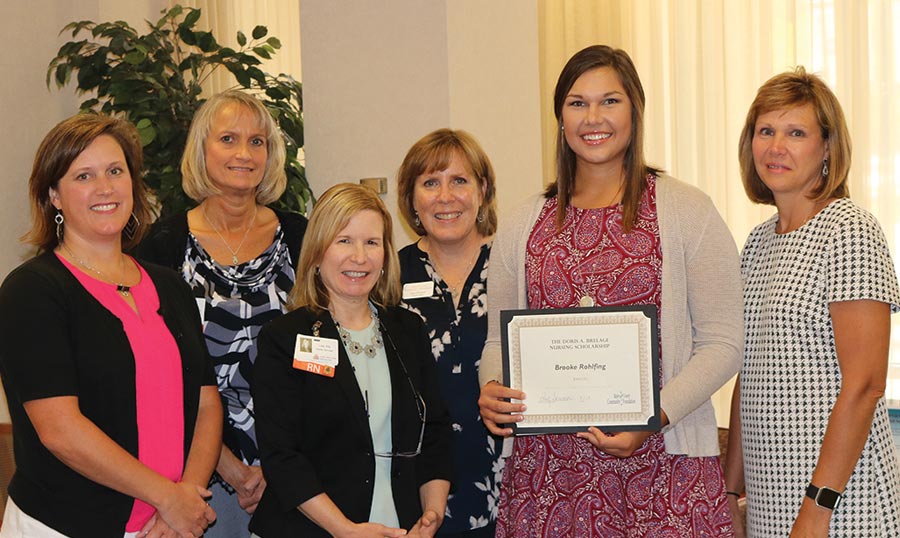 Pictured: Amy Streator, RCCF Executive Director; Mary Norman, RN; Lisa Banks, RN; Jane Deiwert, RCCF Program Officer; Brooke Rohlfing and Beth Rohlfing, Brooke's mother
The Ripley County Community Foundation, in collaboration with MMH, announces that Brooke Rohlfing has been awarded the Doris A. Brelage Nursing Scholarship for 2017.
Brooke is a 2014 graduate of Batesville High School. She is entering her senior year at Xavier University where she is a member of Xavier's School of Nursing Honor Society, Sigma Theta Tau. Brooke is currently a nurse aide tech at MMH.
On October 18, 2008, the Batesville community lost an instrumental member in the person of Doris A. Brelage through an accidental death.  A registered nurse and EMS member, she spent 37 years at MMH in the capacities of director of nursing, head of surgical nursing and director of infection control. This scholarship was established by Doris' family in the Ripley County Community Foundation following her untimely death.