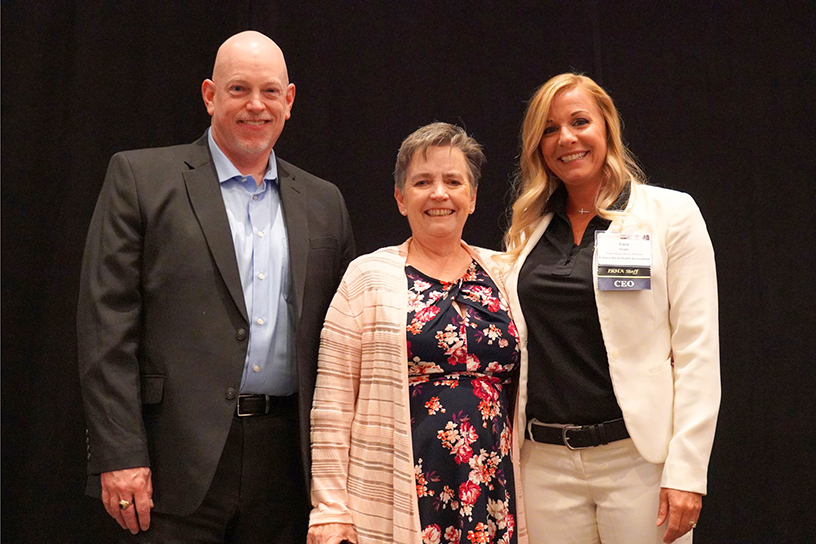 Pictured: Dr. Kim Kick, middle, with IRHA Board President Perry Gay and IRHA CEO Cara Veale
Congratulations to our very own Dr. Kim Kick for receiving the Indiana Doc Hollywood Award at this year's Indiana Rural Health Association's annual conference. This award recognizes individuals who care professionally for those in rural areas across the nation. Her nomination was a compilation of both professional and patient testimonials that showcased her reputation for being a genuinely caring physician. Dr. Kick is an invaluable asset to our community. Read her full nomination below.
For a small-town, rural community, you can't put a price tag on the value of local physicians returning to their hometowns to practice medicine where they were born and raised. Since 1998, the residents of Batesville, Indiana have benefited from the expertise, compassion and dedication of Family Medicine Doctor Kim Kick. Whether she's providing quality care to her patients, mentoring medical students or volunteering in her community, there's no doubt this Batesville native is leaving a positive impact for generations to come.
"I've worked with Kim since 2007," said Beth Villani, FNP. "She recruited me to work alongside her as Margaret Mary's first nurse practitioner. Kim truly embodies the definition of a caring, compassionate family doctor. I think providers who work in the same community where they live and raise their families have a different mindset. Kim's dedication goes beyond Monday through Friday. She's familiar with our schools, connected to her church, dedicated to our community and always willing to serve."
When asked what kind of a physician Dr. Kick is, her patients describe her as patient, professional, knowledgeable, friendly, thorough, empathetic and patient-centered. Many also say she's built personal connections with them, taking the time to learn about so much more than their general health status.
Over the years, long-time patient Jeff Ollier has taken his family to see Dr. Kick for medical care ranging from stitches for his son to assistance following his mother's breast cancer diagnosis. "Dr. Kick has cared for four generations of my family," said Jeff. "On a scale of 1 to 10, I'd give her an 11. She's personable and has a great sense of humor. My parents are now deceased, but when they were alive and needed help, she stopped by their house to help them. She's genuinely a good person."
Young mother Christia Schuler-Alvarez loves the convenience of being able to see Dr. Kick for everything from gynecologic care to her son's wellness visits. "I have complete trust and the utmost respect for her," said Christia. "She takes the time to listen to what I have to say, is genuinely concerned about my family and remembers details about my personal life so I've never felt like just another 'number' to her."
Another long-time patient Missy Cooper recalls the support Dr. Kick provided when her mother had a stroke. "She was there at one of my lowest moments," said Missy. "When my mom had a stroke, I was freaking out. Kim rushed to my side. She took me by the shoulders, calmed me down and helped me make the decisions that needed to be made. Following the stroke, she also incentivized my mom's recovery by signing her up to walk alongside her in an upcoming race. Kim is truly the kind of doctor who motivates her patients and meets them where they need to be met."
Despite the time and dedication it takes to be a mentor to medical students, Dr. Kick has welcomed them into her practice so they can better understand what it takes to be a healthcare provider in a rural community.
Although Dr. Gloria Brelage now works alongside Dr. Kick in a shared medical practice, some of their earliest encounters occurred when she began seeing Dr. Kick for routine medical care in high school. "Dr. Kick inspired me and solidified my desire to practice family medicine," said Dr. Brelage. "Working side by side with her for the past 12 years has truly been a blessing! She goes through her day seeing newborns to hospice patients with such grace and love. Her love of neighbor and compassion for others can be seen in the hours she dedicates to digging deeper into medical records or praying at bedside with families. She is a true gem and such an asset to southeastern Indiana."
Recently, medical student Sophia Tunny also spent time shadowing Dr. Kick in her practice. "After only a few hours, I realized she is not only a fantastic diagnostician, but also an expert at developing a strong rapport with her patients, which ultimately leads to improved outcomes."
Medical student Emily Gutzwiller added, "Having the opportunity to observe Dr. Kick has been one of the most influential and formative experiences on my path to pursuing a career in medicine. She has shaped how I hope to treat my future patients and molded my goals for the physician I plan to become."
Anyone who knows Dr. Kick knows she not only cares about her patients, but she's invested in doing what it takes to see the whole community thrive. An advocate for area youth, she's not only been a long-time soccer coach, but also volunteers for So Loved Clothing Closet, an organization that provides clothes for local foster children. A woman of great integrity and faith, she's also long supported the ministries of St. Anthony Church, serving on parish council and traveling twice to Haiti on medical mission trips to help their sister parish.
A proud graduate of Batesville High School, Dr. Kick has been greatly involved with the Batesville Community Education Foundation for more than 12 years, serving as president of the board three times. "She chaired our inaugural annual campaign fund drive, going door-to-door in our community asking for donations," said Anne Wilson, BCEF Executive Director. "Her efforts helped us raise $36,000 for public education that first year alone. In addition, Dr. Kick served as the scholarship and grants selection committee chair for six straight years. From hand-addressing donor envelopes to selling raffle tickets or marching in a parade to showcase our efforts, Dr. Kick is someone we can count on to be totally committed to our mission to support our rural community's students."
Additionally, Dr. Kick was a founding member of the Indiana Coordinated School Health Council in 2004, a group which brought parents and community members together to take a look at the health and wellness of local students.
Perhaps most impressive of all of Dr. Kick's accomplishments is her ability to run a successful medical practice while raising a family of her own. Dr. Kick and her husband, Mike, have two children, Anna and Ben. "If there is one quality that best describes my mom, it would be compassionate," said Anna. "I still remember, as a young girl, dreading going to the grocery store because I knew she would check in and chat with every patient we ran in to, only increasing the amount of time it took. My mom has always been my go-to source of advice and has guided me through every personal and professional dilemma I've had. She has hands-down been the greatest role model and mentor for me. Despite having an extremely demanding job, the amount of time she dedicates to our family, as well as the community, is something I'll never fully understand."