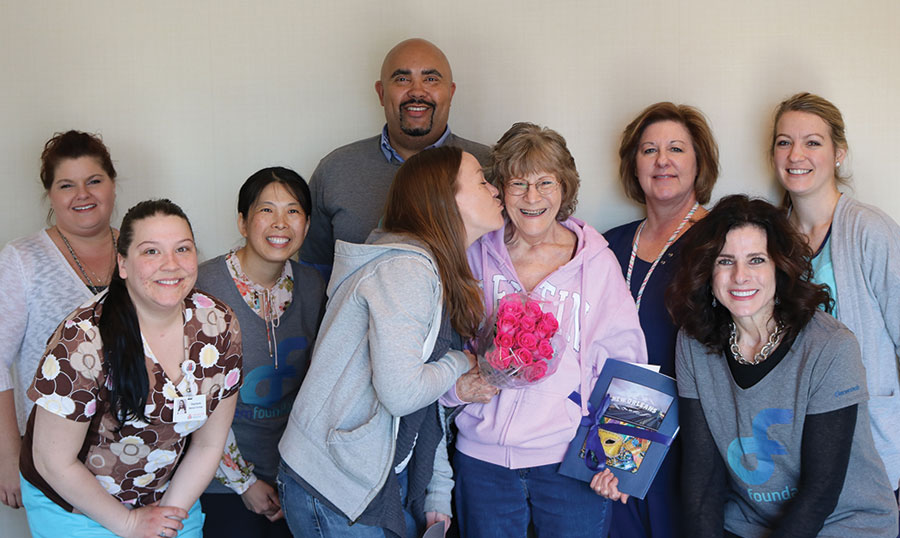 Many people have a bucket list. For lung cancer patient Afena Walker, that list included taking a trip to New Orleans with her daughter, Heather. Thanks to the Dream Foundation, with help from Margaret Mary Health, Afena's dream recently became a reality.
"During one of Afena's recent chemotherapy treatments, she told me she had always dreamt of going to New Orleans but was concerned about the expense," said Kari Ann Rennekamp, patient support coordinator at Margaret Mary's Cancer Center. "That's when I suggested we submit her wish to the Dream Foundation."
The Dream Foundation is a national organization that serves terminally ill adults and their families by granting dreams that offer inspiration, comfort and closure. Each year, the organization grants approximately 2,500 dreams nationwide.
Pictured: On March 9, Afena Walker, of Greensburg, received a New Orleans travel package from the Dream Foundation. Pictured (from left) are: Kari Ann Rennekamp, MMH patient support coordinator; Stephanie Bulach, MA; Emily King, Dream Foundation representative; Jevon Jackson, Dream Foundation representative; Heather Walker; Afena Walker; Tammy Buehner, RN; Tammy Crowe, Dream Foundation representative; and Julie Huffmeyer, RN.
Pictured: Cancer patient Afena Walker shows her gratitude by giving a hug to Dream Foundation representative, Emily King.