News
Elizabeth Leising Named President and CEO of Margaret Mary Health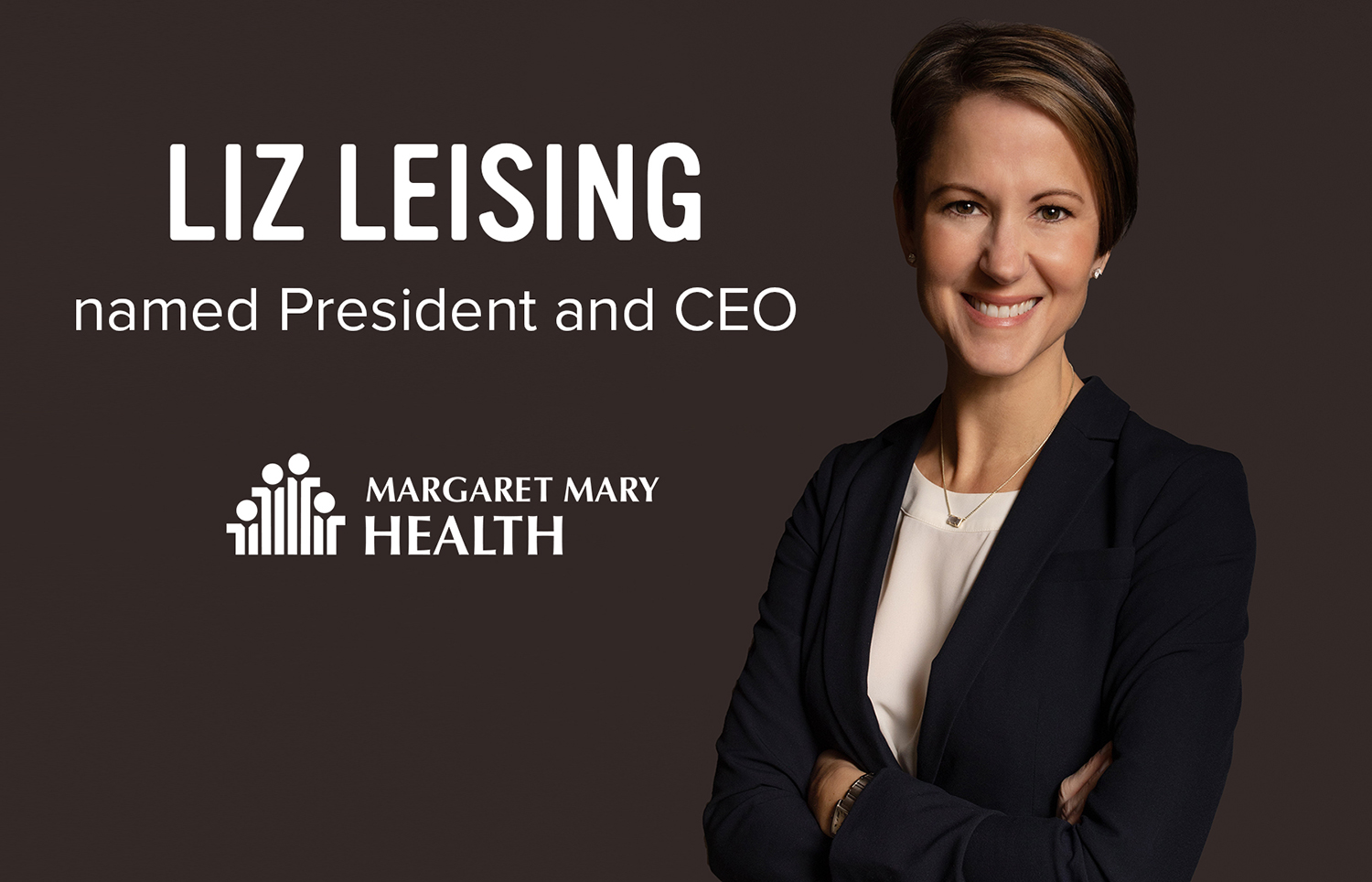 Margaret Mary Health is pleased to announce that Elizabeth "Liz" Leising has been appointed President and Chief Executive Officer (CEO) by its Board of Directors. Leising has been serving as interim President and CEO since September 2021.
"I have had the pleasure of working with Liz over the last five years and have seen first-hand her unwavering commitment to our patients, their families, our physicians and our team members, all helping to make Margaret Mary such an extraordinary place of care," said George Junker, chair of the Margaret Mary Health Board of Directors. "She is a passionate, tireless and inspirational leader who will advocate for advancing the mission of Margaret Mary Health to deliver exceptional clinical excellence, as well as providing the best patient experience at the most affordable price."
Leising is a high energy, engaging individual with nearly 20 years of clinical experience, and 15 years of progressively increasing leadership experience with management roles across complex environments, including for-profit systems, academic medical centers and rural community hospitals. Prior to joining Margaret Mary Health, Liz held various leadership roles for IU Health including Director of Emergency Services and Pediatrics at IU Health West Hospital followed by serving as Administrative Director of Ambulatory Services at IU Health Methodist & University Hospital. In her role she provided strategic and operational leadership for 30 hospital-based multi-specialty ambulatory clinics, including the IU Health Simon Cancer Center.
Margaret Mary Health, a vibrant and growing healthcare system, has benefited from Leising's strong strategic and operational leadership experience since she joined the organization in 2016 as the Chief Nursing Officer and Vice President of Patient Services. In her role, Liz led a multidisciplinary team throughout key clinical areas including inpatient, OB, emergency services, perioperative services, oncology, imaging, lab, cardiopulmonary, rehabilitation and Lean/process improvement.
Leising has also been instrumental in establishing collaborative partnerships with regional health systems and physician leaders to help ensure the best possible care and outcomes for patients. Her focus on building strong relationships and teams has led to very successful partnerships for providing higher acuity patient care, including UC Health for stroke and trauma care, and most recently the expanded partnership with The Christ Hospital Physicians for medical oncology care at the Margaret Mary Cancer Center. Liz has also demonstrated her ability to develop and implement hospital best practices, including most recently serving as the incident command leader for Margaret Mary's response to the COVID-19 pandemic the past 24 months.
"It has been and continues to be a privilege and honor to serve Margaret Mary and this community," shared Leising. "This organization is a family – a group of people that give so much of themselves to care for their friends, family and neighbors and support each other during very difficult times. It's what truly sets us apart. That deep connection is what inspires me every day to find even better ways to continue providing the excellent care our community has come to expect from us. I am excited about the future of Margaret Mary, and how our team can build upon the previous 90 years of caring to improve the health of our communities."
According to Leising, it is her goal to ensure Margaret Mary Health remains one of the top-performing rural hospitals in the country. As the new CEO and President, Liz intends to be very intentional about mapping out new strategies and innovations in health care delivery that will align with the organization's vision to be the best health care provider for our communities where people choose to come for services; where physicians choose to practice; and where team members choose to work.