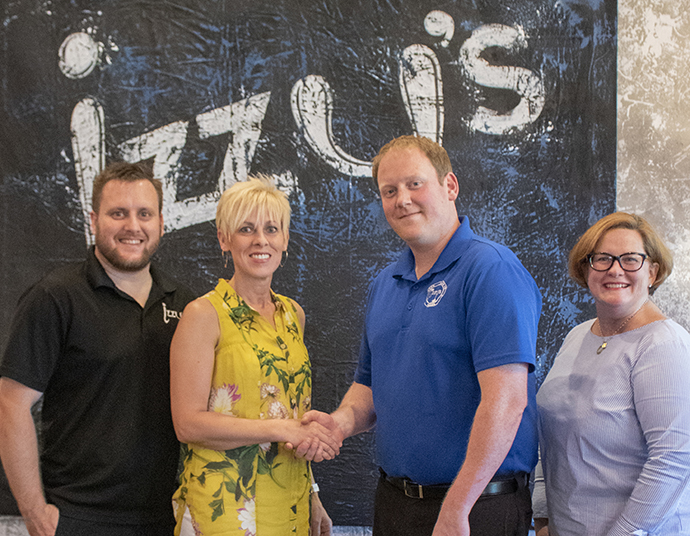 The Margaret Mary Health Foundation was recently the recipient of a generous donation from Izzy's at Hillcrest. The $1,000 donation will benefit the Foundation's Girls on the Run Fund.
In late June, Izzy's hosted a fundraiser featuring 5 Lights, dancing and appetizers, all in the name of raising money for the Health Foundation's Girls on the Run Fund. "Girls on the Run is a really great program," says Bill Gardner, Co-owner of Izzy's at Hillcrest. "I'm a dad myself now so this [program] hits a little bit closer to home, being able to empower young girls and give them the confidence to grow up and be successful young adults."
"We're so grateful to Izzy's at Hillcrest for supporting Girls on the Run and the Margaret Mary Health Foundation. Thanks to Adam [Israel], Bill, their staff and the community for their generous support," says Mary Dickey, Foundation Executive Director.
Margaret Mary's Health Foundation was established in 2012 to raise money to enhance hospital programs, services, technology and educational opportunities, and to engage the community as partners in health improvement. The Foundation's role is to receive, manage and disburse funds to meet current hospital needs as well as ensure long-term growth and viability.
Pictured above: Bill Gardener, Co-owner of Izzy's at Hillcrest; Lynn Hertel, Girls on the Run of Margaret Mary Health Council Director; Adam Israel, Chef and co-owner of Izzy's at Hillcrest and Mary Dickey, Margaret Mary Health Foundation Executive Director