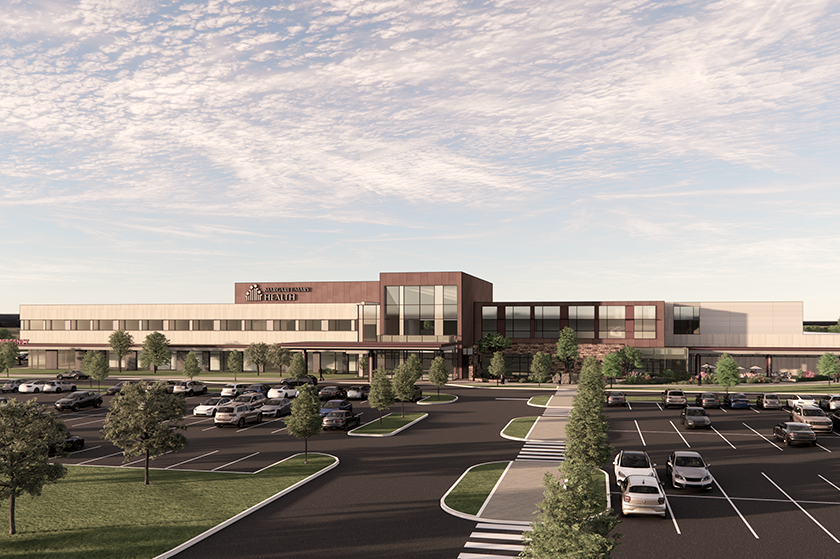 Margaret Mary Health is announcing plans for a new hospital as the first phase of an expanded health and wellness campus at its property located on Indiana State Route 229 just north of the I-74 Batesville interchange. Phase one will include a nearly 124,000 square foot replacement hospital, located adjacent to the Margaret Mary Physician Center and Margaret Mary Outpatient and Cancer Center.
The replacement hospital will be designed to enhance the patient experience through the use of innovative technology, improved patient privacy, easier navigation and more convenient access. It will also allow for improved operational efficiencies, including expanded surgical capabilities, energy efficient construction and upgraded workflows. Additionally, a new hospital will position MMH as a leader in rural healthcare and support efforts to attract and retain top talent.
"As a regional leader in healthcare for southeast Indiana, it is important we are prepared to meet the future needs of our community," shared President and CEO, Liz Leising. "As the delivery of health care shifts from managing illness to promoting and supporting wellness, the development of an innovative health and wellness campus becomes a critical need. Building a new state-of-the-art hospital is the first step in our vision and will serve as the anchor for developing a campus that will help transform our community into a healthier place to live."
MMH will be investing $115 million in phase one of the campus expansion, which includes construction of the replacement hospital, expanded walking trails and green spaces to promote community wellness. Construction is scheduled to begin in the spring of 2024 and should take approximately two years to complete. GBBN Architecture, out of Cincinnati, OH, will lead the design team for the replacement hospital. Danis (Cincinnati, OH) and Bruns-Gutzwiller (Batesville, IN) will provide construction management for the project.
"Our current hospital has served the community well for more than 90 years. Our goal has always been and will continue to be to provide high quality, compassionate care for community members. Looking forward, the age of our existing facility and the continued cost to maintain and modernize it make this challenging," added Board Chairman, George Junker. "Investing in our long-term vision and expanding our capabilities in a new hospital will allow Margaret Mary to continue to deliver on our mission for generations to come."