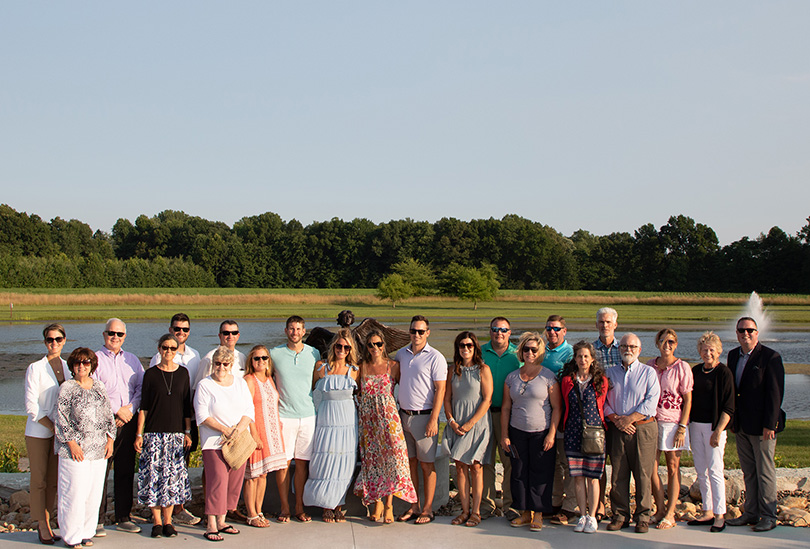 Photo includes major donors and representatives from supporting foundations. From left: Liz Leising, Kimberly Inscho, George Junker, Claire Sherman, Cameron Fledderman, Jody Fledderman, Jackie Fledderman, Kim Fledderman, Brett Hofer, Amber Hofer, Cami Muto, Tom Muto, Amy O'Mara, Blake O'Mara, Susan Gigrich, Todd Gigrich, Paula Doyle, Joe Raver, Jim Doyle, Anne Raver, Jolene Rockwood and Jonathon Maple.
On Tuesday, July 11, local residents gathered to dedicate the newest addition to Margaret Mary Health's Six Pine Ranch campus. A beautiful Reflection Garden was constructed to provide a serene space for community members to enjoy nature while remembering loved ones whose lives were lost too soon.
Located along Margaret Mary's walking trail, the new garden overlooks a pond and includes a variety of seating areas, as well as memorial statues. The first statue, Angel of Hope, was inspired by a book and movie called The Christmas Box, by Richard Paul Evans. One of only nine in the state of Indiana, this memorial represents the parent-child relationship and brings hope to parents who have endured the loss of a child.
Additionally, the butterfly statue, built by local artist Chaz Kaiser, symbolizes hope following the loss of a child and is located among flowering plants that will attract butterflies to the garden.
"When developing our plan for the Reflection Garden, the goal was simple – create a place where people can reflect on the lives we've lost in our community," said Jonathon Maple, MMHF Executive Director. "We have many meaningful connections to this garden, and we are proud to say the garden was 100 percent funded through philanthropic community support – a true testament to what can be accomplished through the transformational power of philanthropy."
Event speakers included donors Cami Muto and Amy O'Mara, both mothers who have experienced the loss of a child. Local religious leaders, Fr. Carl Langenderfer and John Vadeboncoeur, were also in attendance to bless the garden.
"The entire community is welcome to enjoy the garden," added Maple. "We hope this space provides comfort and peace to those who need it most."