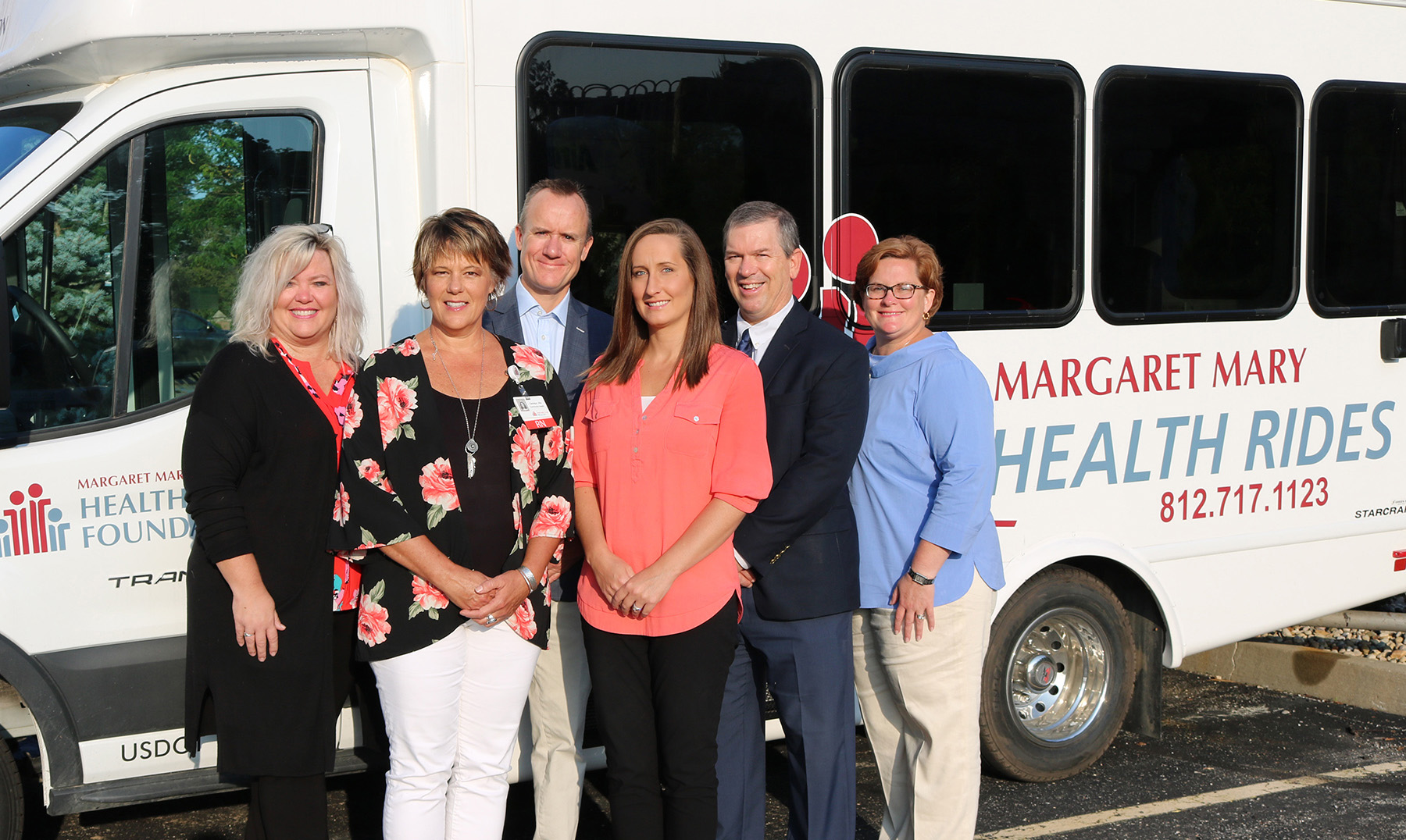 Pictured: Julie Keene, MMH vice president of physician services; Geralyn Litzinger, MMH director of community health; William Hillenbrand II, MMH Foundation board chairman; Erin Thomas, Catch-A-Ride director; Tim Putnam, MMH president; and Mary Dickey, MMH Foundation executive director
For many area residents, finding reliable transportation to and from medical appointments can be a struggle. That's why Margaret Mary Health is now offering a new transportation service to its patients.
Operated by LifeTime Resources, Health Rides provides wheelchair-accessible transportation Monday through Friday from 7 a.m. to 5 p.m. for anyone who has an appointment at any of MMH's 13 facilities. LifeTime Resources has years of experience in the transportation industry as it serves as operator of Catch-A-Ride, a public service providing rides to anyone within six counties in southeastern Indiana.
"At Margaret Mary Health, our goal is to improve access to care for everyone in our community," said MMH President Tim Putnam. "Without reliable transportation, patients often miss medical appointments which can lead to a lack of appropriate treatment and poorer health outcomes in the long run. We are proud to offer a dependable solution to patients who can't drive or may not have a vehicle. This allows patients to instead focus their attention on what's most important – improving their health."
The Health Rides program was made possible thanks to a generous grant provided by MMH's Foundation. The grant was funded by donations made by the William A. and Martha H. Hillenbrand Foundation, attendees at the MMH 2017 gala and MMH team members.
Cost to ride the Health Rides shuttle is $3 one-way. For individuals who meet certain financial criteria, a Fast Pass card may be available which provides transportation free of charge. To reserve a ride, call 812-717-1123. For questions, call 812-933-5145.