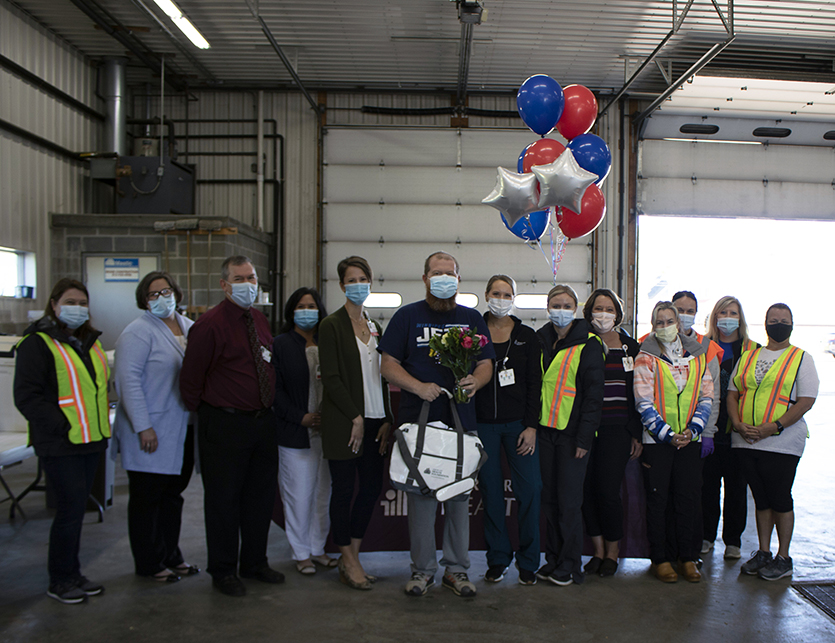 MMH passed a significant milestone today in its efforts to vaccinate as many community members as possible, administering its 25,000th dose.
"This vaccination milestone is further evidence of how committed our entire community is to winning the battle against COVID-19," said Tim Putnam, President and CEO of Margaret Mary Health. "We are beyond grateful for the truly remarkable partnerships with our local businesses and organizations that have helped make this effort possible. We would not be where we are today without the volunteer support of these groups and so many individuals in our community. Whether snow, rain or shine, they showed up to help, from directing traffic and checking in patients to delivering food for workers."
More than 80 individual community volunteers and 19 organizations helped support operations at the COVID-19 vaccine clinic, with just under 2,000 total hours of time donated. In addition, nearly 150 MMH team members and Ivy Tech students have helped staff the vaccine clinics since December of 2020, with more than 4,500 hours worked.
"I have been blessed to witness the power of what community really means in rural America. We take care of our neighbors, friends and family, and that is what makes working in rural healthcare so rewarding. This has never been more evident than during this past year of the pandemic," added Putnam. "One of the greatest strengths of this community is that we all embrace and understand that we truly are stronger together and I have no doubt that we will come out of this pandemic even stronger than we were before."
If you have questions or concerns about receiving the vaccine, please consider having a conversation with your healthcare provider. Vaccines are safe, effective and an important tool in ending the COVID-19 pandemic and MMH has adequate vaccine supply at this time for Ripley and Franklin counties.
MMH is providing access to COVID-19 vaccines without an appointment. The COVID-19 vaccine is available at no cost and you do not need to have health insurance. The clinic at the Batesville Street Department Garage is open on Tuesdays, Wednesdays and Thursdays through May.
For up-to-date information on Margaret Mary's vaccine clinic hours and location, visit us online at mmhealth.org/covid-19.
Pictured:
Tim Gaines of Bright, IN was MMH's 25,000th COVID-19 vaccine recipient. He is pictured with (left to right) Marty Junker, Clinic Volunteer; Mary Dickey, Margaret Mary Health Foundation Director; Tim Putnam, MMH President & CEO, Laurie Mustin, RN, Director of Quality & Process Improvement; Liz Leising, RN, CNO & Vice President of Patient Services; Laura Greiwe, RN; Kayla Sims, RN; Geralyn Litzinger, Director of Community Health Improvement; Betsy Kelley, RN; Lori Mauer, RN; Amy Hon, RN; and Sara Putnam, Clinic Volunteer.