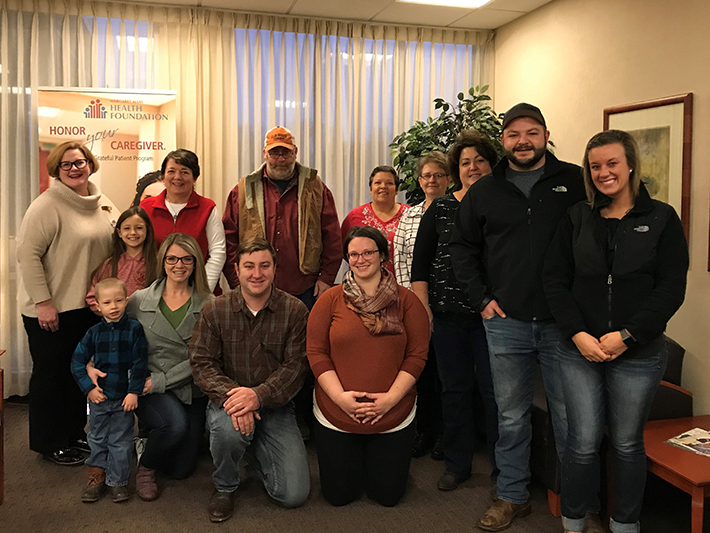 The Margaret Mary Health Foundation recently received a very generous donation from the family and friends of Joe Stirn. More than $6,000 was raised at the 2nd Annual Joe Stirn Memorial Trap and Stillboard Shoot held on November 10, 2019 at the Oldenburg Conservation Club.
According to Joe's wife Kim, the event was started "as a way to pay tribute to Joe's memory…  he was always giving to others." The gift will benefit the Cancer Center's Hope Fund, which provides monetary assistance to patients in need of help with the indirect costs of cancer treatment.
When asked why the family chose to support the Hope Fund, Stirn explained they have experienced firsthand the great care provided to her sister-in-law, Susie Stirn. "It is such a great place of hope and compassion…we chose the Hope Fund because we like the idea of helping the personal needs of patients," says Kim. "It was our great honor to give back to such a fantastic cause."
"We appreciate the generosity of the Stirn Family and all those who supported the shoot. Their generosity will enable us to support patients in need and enhance their cancer journeys in ways that make a big difference," says Mary Dickey, Foundation Executive Director.
The Margaret Mary Health Foundation was established in 2012 to raise money for the purpose of enhancing hospital programs, services, technology and educational opportunities, and to engage the community as partners in health improvement. The Foundation's role is to receive, manage and disburse funds to meet current hospital needs as well as ensure long-term growth and viability.
Pictured in front from left to right: Bradlee Stirn, Jessica Stirn, Ethan Stirn & Claire Kohlman; in back from left to right: Mary Dickey, Emmi Stirn, Dolly Stirn, Andy Stirn, Susie Stirn, Patty Kohlman, Kim Stirn, Aaron Stirn & Molly White