Diabetes Care
If you have diabetes, it's essential you take good care of yourself.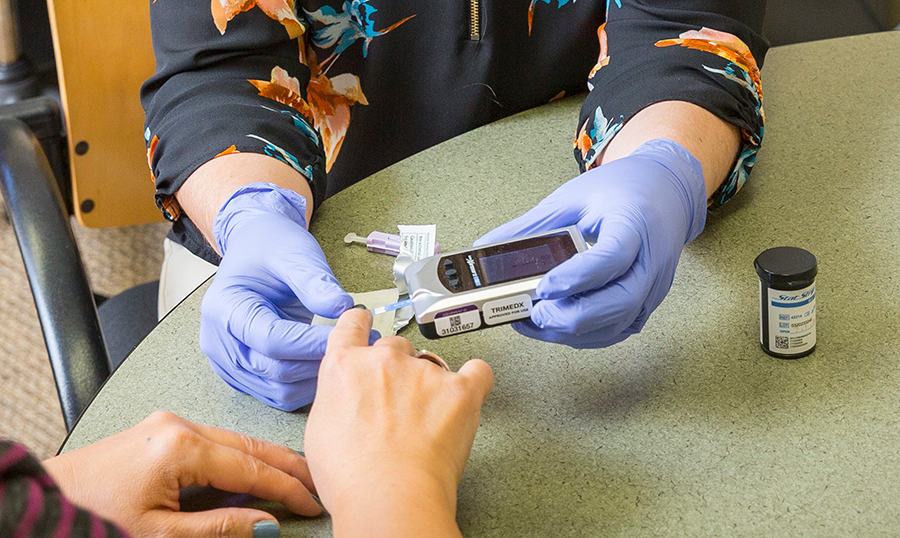 Diabetes Support & Education
Eating right and exercise are necessary for managing your diabetes successfully. Recognized by the American Diabetes Association, our diabetes program is led by registered nurses and dietitians who are trained in diabetes education.
Our program offers the following:
Individual Consultation/Follow-up
Group Diabetes Classes
Insulin Pump Support
Gestational and Pregnancy with Type 2 Diabetes
Blood Glucose Meter Services
Continuous Glucose Monitoring
How To Get A Referral
Your referral to make an appointment with our diabetes educators may come through your physician, or if you choose to make an appointment on your own, our staff will be happy to assist in the referral process. For more information, speak to your health care provider.
Education Topics
Diabetes is a disease that affects your body's ability to produce or use insulin. When not managed properly, it can lead to cardiovascular disease or cause damage to your nerves, kidneys, eyes and skin. During a typical appointment, our staff will teach you how to avoid these complications by discussing the following topics:
Overall Diabetes Process
Blood Glucose Monitoring
Medication Management
Target A1C and Blood Glucose Ranges
Hypoglycemia
Basics of Nutritional Management
Goal Setting
Healthy Coping
Cost
Medicare and many insurances will cover the costs for consultations, tests and skills management training. Always check with your insurance carrier on Medical Nutrition Therapy and Diabetes Self Management Training coverage. Margaret Mary submits charges to your insurance company. Payment plans can be arranged for those without coverage.