Hospice
Ensuring the highest quality of life for whatever time remains.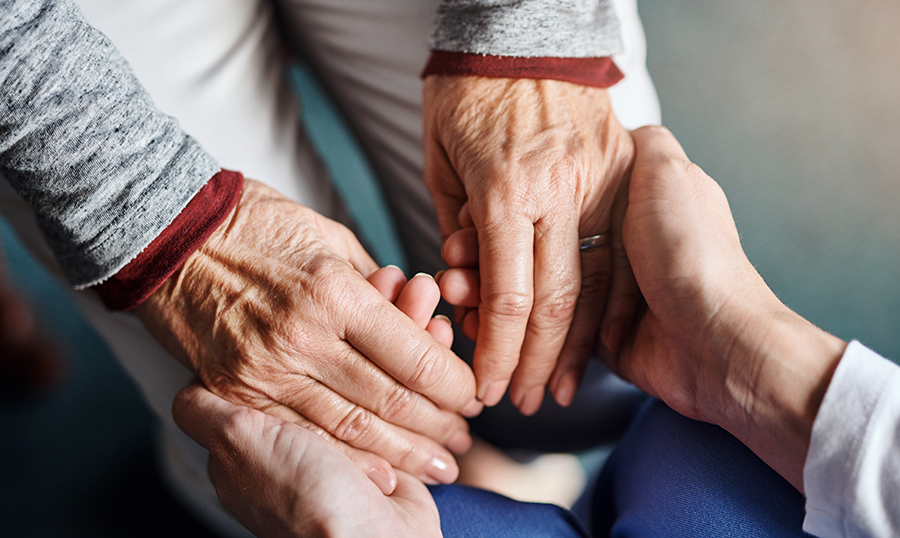 Support and Comfort When You Need it Most
Hospice care is designed for people who are nearing the end of life. Unlike other medical care, the focus of hospice isn't to cure patients, but instead control their pain, make them comfortable and ensure the highest quality of life for whatever time remains.
Additionally, hospice can improve the family/caregiver's lives by having a team of experts they can depend on, seek advice and guidance from and receive much needed teaching and support during this difficult time.
Those who are eligible include anyone with a disease that can't be cured and whose life expectancy can be expressed in months, weeks or days. We have expertise in caring for individuals with cancer, lung disease, heart disease, liver problems, AIDS, neurological disorders, kidney issues, diabetes, stroke and Alzheimer's.
Hospice care can be provided in homes, hospitals, nursing homes or assisted-living facilities. In most cases, physicians refer patients to hospice, however a physician referral is not necessary.
Our Services
Our hospice team is dedicated to providing skilled medical and supportive care. Family members especially appreciate our 24/7 on-call nurse availability. Other services include:
Physician-directed care
Pain and symptom management
Personal care
Emotional support and spiritual counseling
Nutrition counseling
Speech, physical and occupational therapies
Bereavement follow-up for 13 months
Medicare, Medicaid and private insurance cover services provided by hospice.
Frequently Asked Questions
Our Service Area
Our patients are important to us from the beginning to the end of life and every point in between. Hospice care can be provided in homes, hospitals, long-term care facilities or assisted-living centers.
We proudly serve communities within a 35-mile radius, including the counties of:
Dearborn
Decatur
Fayette
Franklin
Ohio
Ripley
Rush
Union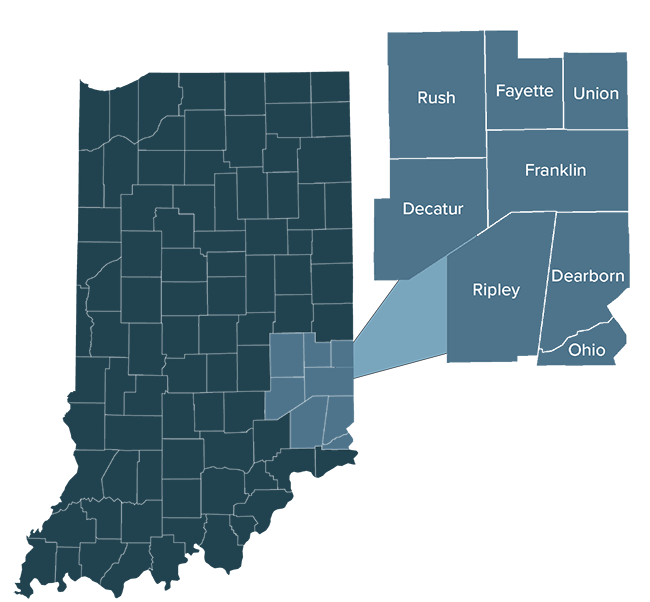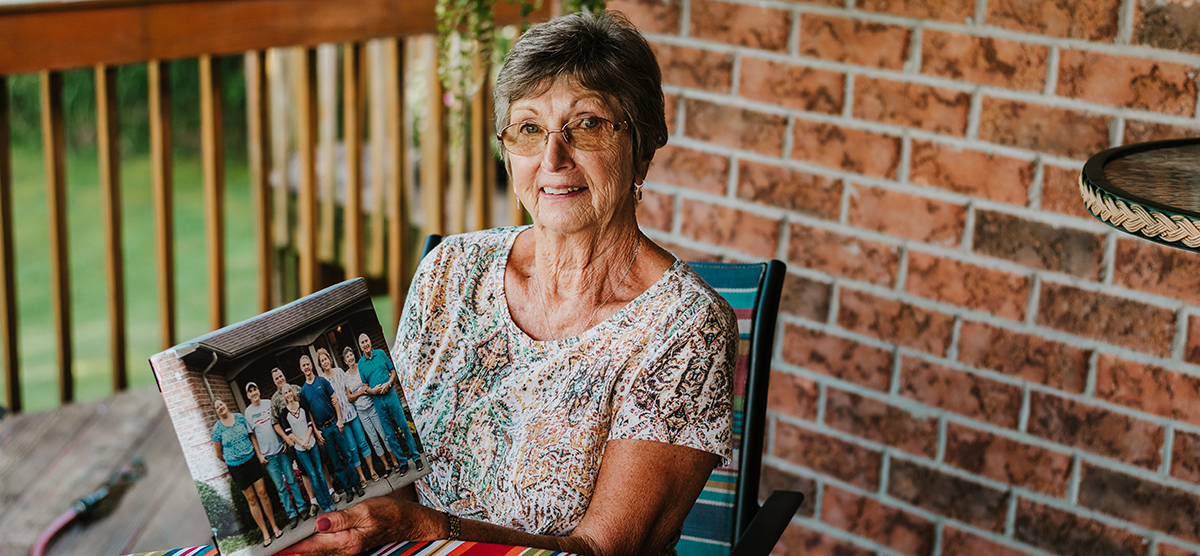 Woman Cares for Husband
at Home Thanks to Hospice
"We raised our family and built a good life. He called me his sweetheart. You're never truly ready to let go, but I'm glad I could care for him at home. I would do it all over again."
Become A Hospice Volunteer
At Margaret Mary Health, our Hospice volunteers are an important part of our healthcare team. Not only do they fill the gaps between loved ones and professional caregivers, they also provide companionship and support to our patients when they need it most.
Our Hospice volunteers are comprised of a variety of people from our community - men and women, young and old - from all walks of life. No medical training or prior experience is necessary to volunteer. All that's required is a spirit of compassion, the ability to listen and respect for all ways of life. Download the volunteer application and forms here, or call 812.933.5125.
A Team Approach
Providing care to someone who is dying can be difficult. That's why we ensure you have the assistance you need to do your job well. Our volunteers receive comprehensive training and work closely with our Hospice team to discuss and address the needs of both our patients and their families.
Opportunities:
At Margaret Mary, our Hospice department offers a variety of volunteering opportunities so you can find the role that best fits you. We offer roles that involve both direct and indirect patient care. Our volunteers: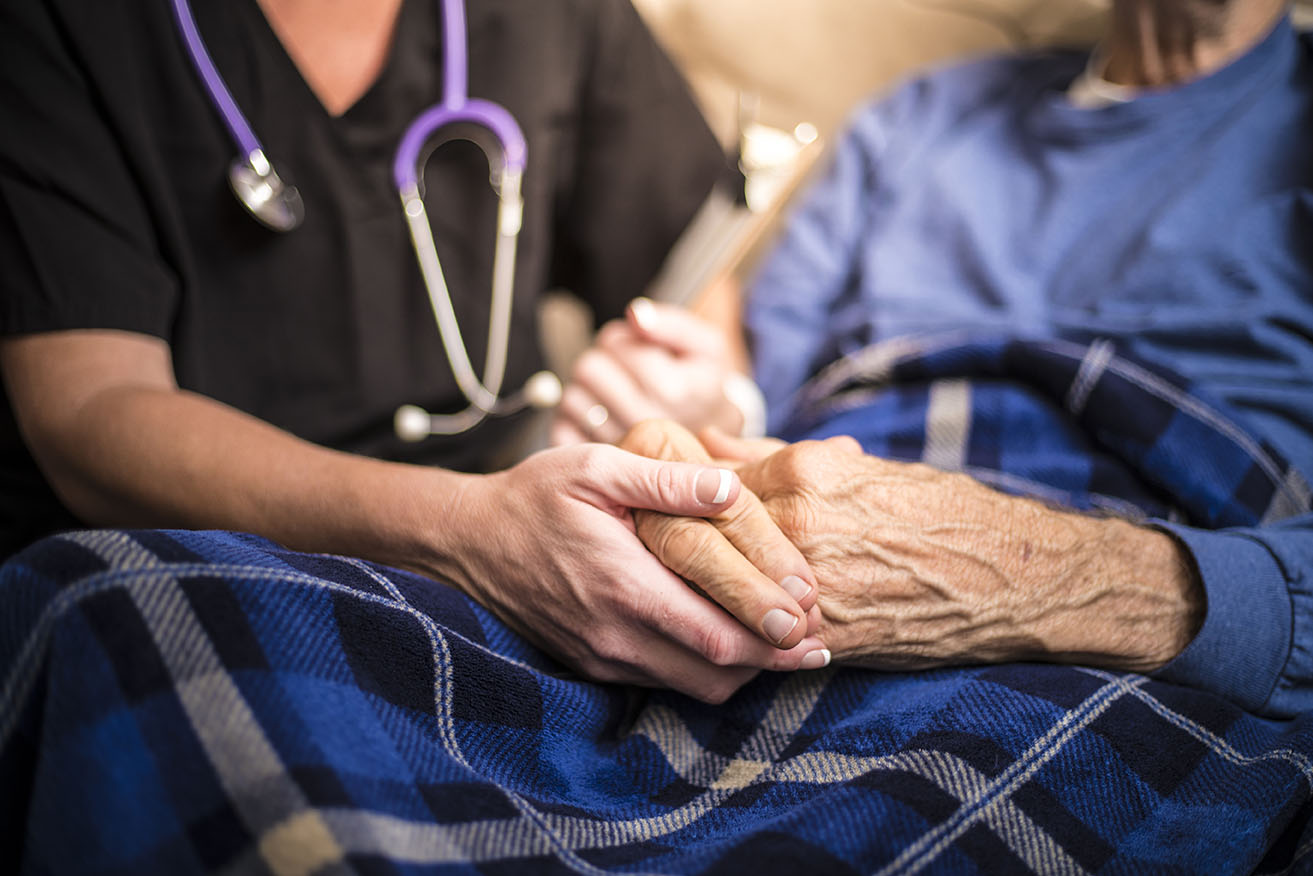 Provide support to patients by visiting, sitting or taking walks with them, as well as reading or writing letters to them.
Run errands for patients and their families.
Provide on-call support by responding to patients with immediate needs.
Make phone calls from the Hospice office to assess each patient's need for medication and supplies.
Help ensure no patient dies alone by being present during the final stages of a patient's life.
Provide basic cosmetology services (cosmetology license required).
Provide bereavement services to family members by making visits and phone calls or sending cards.
Provide the Hospice office with clerical assistance.