Maternity Care
We take a family-focused approach to maternity care.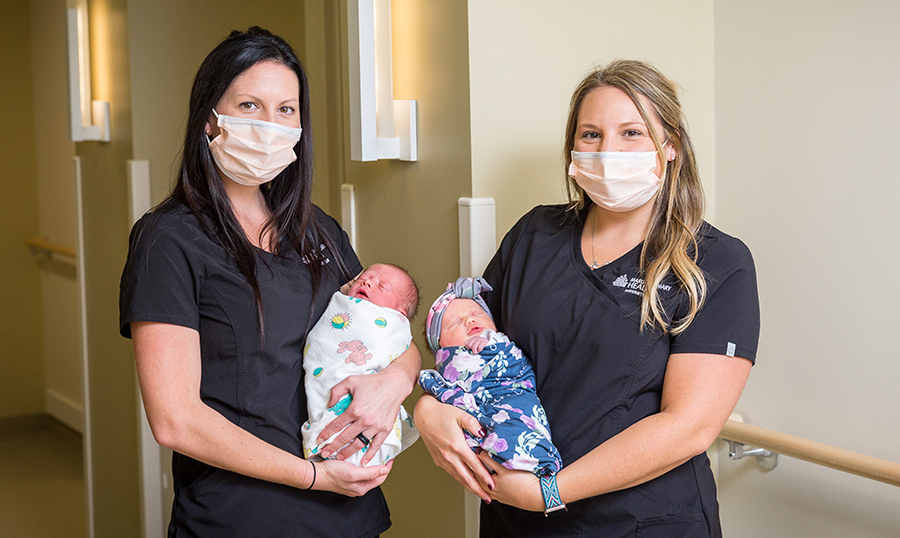 A Healthy and Caring Environment for You and Your Baby
There is nothing more special than bringing a new life into this world, and we are here to help make the moment as perfect as possible. Our nurses and support staff are dedicated to providing safe and compassionate maternity care for you and your baby.
During Your Stay
When you arrive at the hospital, you will be placed in a special room for your labor, delivery and recovery before being moved to your own private maternity suite for the remainder of your stay. If your baby is delivered by Cesarean section, we have a dedicated C-section suite located right in the maternity unit. The C-section suite is equipped to handle an emergency without having to transfer to another part of the hospital.
When you return to your private maternity suite, we suggest you keep your baby in your room as much as possible. Of course, our staff is happy to watch your newborn if you need a break or would like to take a nap. Our staff will provide education on your recovery, as well as show you how to care for your infant so you know what to expect when you get home. Fathers are encouraged to spend the night during your stay, and food trays are available for Dads.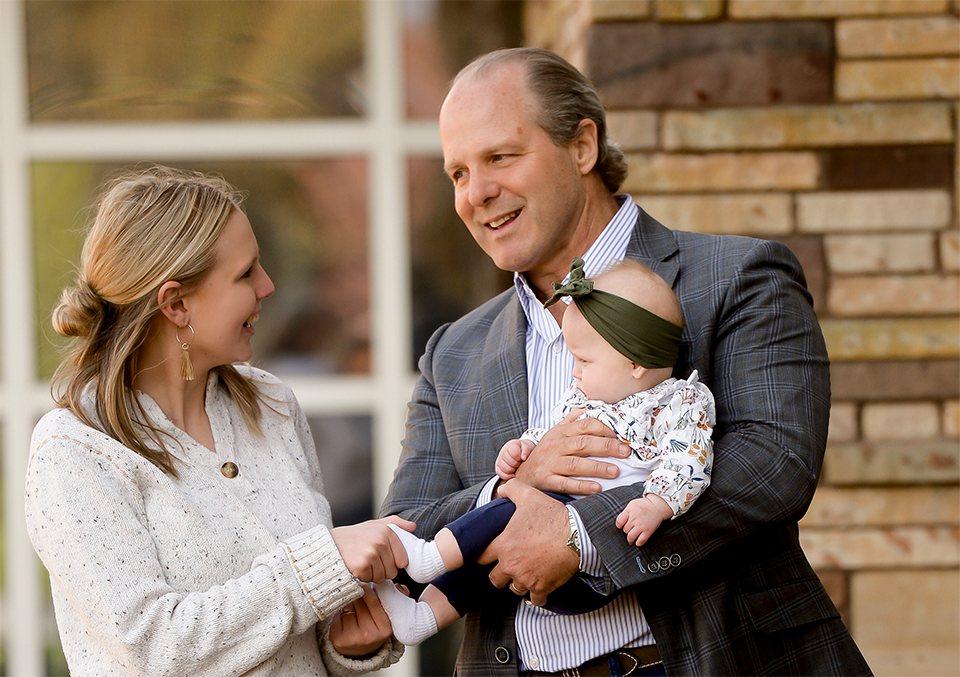 The Ball family doesn't have to worry about forgetting birthdays. Last fall, when Miranda Ball called MMH to schedule her C-section to deliver her daughter, the only date that seemed to work for her and her doctors was November 24. Not only was Miranda born on that day, but she was surprised to find out Obstetrician Thomas Brown also shared the same day.
"All day I felt like I received special treatment," said Miranda. "I have so much trust in my doctors, both for my maternity care and my family's general care. I love that I've developed such strong relationships with them. Having Lula on my birthday ended up being a wonderful gift."
Committed to Safety
If you and your baby need extra medical attention, you'll be glad to know the Indiana State Department of Health has named MMH a Level II obstetrical service and Level II neonatal program. As a Level II obstetrical service, MMH is certified to provide care to appropriate high-risk maternal patients, especially those with conditions like diabetes, hypertension and preeclampsia.
As a Level II neonatal program, our trained professionals are qualified to provide special care to infants who are born at or after 32 weeks and who weigh more than 3.3 pounds. We can also care for babies who have been released from a neonatal intensive care unit but aren't quite ready to go home, as well as babies who need short-term assistance (24 hours or less) to help them breathe. Our nursery offers 24-hour, on-call pediatrician care, and our staff is all neonatal resuscitation certified. Many of our nurses also have additional advanced infant care training.
Carousel content with 4 slides
Testimonials
Highly Recommend
"Dr. Fitzpatrick, Dr. Brown, Anesthesiologist John and the nurses were extremely kind, comforting and attentive during my C-Section and stay at the hospital. Thank you all for a great experience and care. Highly recommend Margaret Mary!"
- Actual patient feedback from MMH patient experience survey, JAN 2022
Testimonials
The Best of the Best
"Dr. Hatcher is truly the best of the best.  He honestly cares for his patients! Alli was my outstanding nurse and went out of her way to make me comfortable. Professional, caring and understanding ... all of which I value and appreciate!"
- Actual patient feedback from MMH patient experience survey, JAN 2022
Testimonials
The Dream Team
"Dr. Emily Housley and my nurse, Chelsea, were exceptional! They both made me feel extremely cared for and safe during the whole labor and delivery process. They are the dream team!"
- Actual patient feedback from MMH patient experience survey, FEB 2022
Testimonials
The Best Birth Experience
"Dr. Thomas Brown was absolutely amazing during my labor and delivery. We joked around to keep the mood light and he encouraged me when pushing was difficult. This was my sixth birth at MMH - all were great but this was the best!"
- Actual patient feedback from MMH patient experience survey, JAN 2022
Questions
During your pregnancy, we understand that questions and concerns often arise after your doctor's office is closed. If you have concerns about your pregnancy or would like a tour of our OB unit, feel free to call our staff 24/7 by dialing 812.933.5142.