X-Ray/Imaging
We provide quick, accurate and safe diagnostic testing.
For questions, call 812.933.5134.
To schedule an appointment, call 812.933.5602.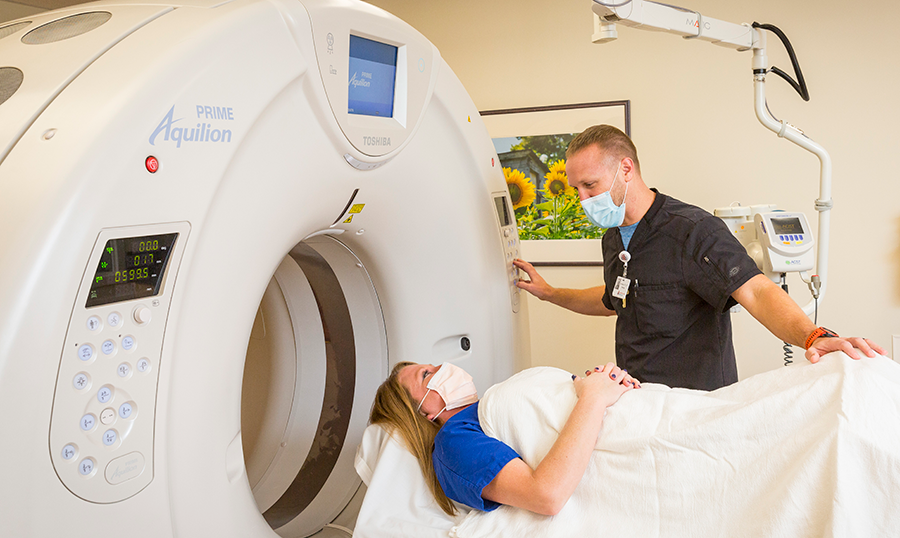 Whether you need an X-ray of your arm, a CT of your lungs or an MRI of your heart, our radiology department offers a range of diagnostic and therapeutic services. In addition to our friendly and well-trained technicians, our radiologists work on-site to provide quick response to patient and physician needs. Selected for its speed, accuracy and safety, our imaging equipment also provides more detail than ever before.
Women's Imaging
To provide greater privacy and convenience for women, our women's imaging center is located near our X-ray department and offers specialized diagnostic services including 3D mammography, pelvic and breast ultrasound and bone density testing. Diagnostic tests can create anxiety. That's why our center offers a calming environment, as well as a separate entrance so women can conveniently come and go. For women who find out they have an abnormal mammogram, we also have a breast health navigator on staff to answer questions and provide support in case a breast biopsy is needed. For more information on our imaging services, please call 812.933.5134. To schedule an appointment, call 812.933.5602.
M

ammogram Assistance:
Thanks to funding from the Indiana Breast Cancer Awareness Trust, MMH offers financial assistance for mammograms to women who are uninsured and meet certain age, financial and other program criteria. To see if you qualify, click here for an application or call 812.933.5134.
X-Ray/Imaging Doctors