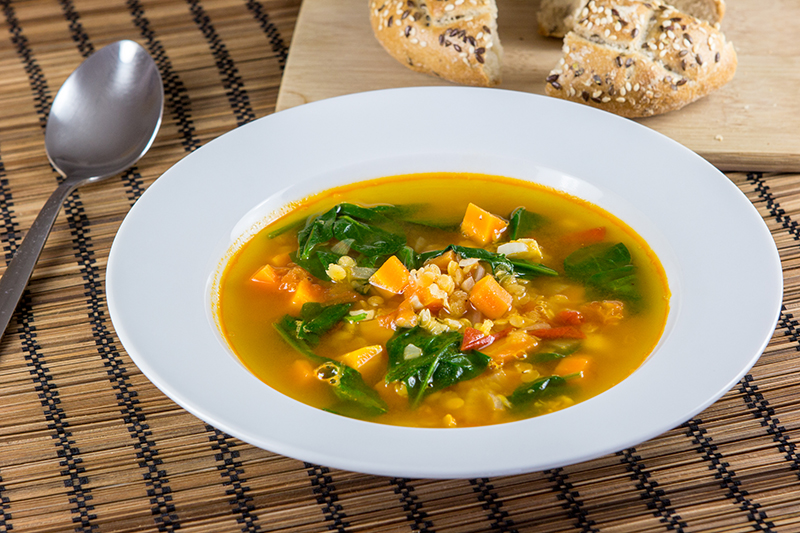 When it comes to your heart, nutrition plays a huge role. Below are a few tips to keep your heart healthy:
Watch Your Sodium Intake. Keep daily sodium intake to less than 2300 mg (equivalent to one teaspoon of salt). The average American consumes more than 3400 mg of sodium daily!

Avoid using the salt shaker. Flavor with black pepper, herbs and spices. Avoid those with 'salt' in the name, such as garlic salt or onion salt.
Avoid/limit processed foods such as lunch meat, hot dogs, canned soup and 'convenience' foods.
Be mindful of condiments. Ketchup, mustard, barbecue sauce, pickles and olives often have high amounts of sodium in them.

Consume High-Fiber Foods. Eating a high-fiber diet can help keep your cholesterol levels within target. Aim for 25 to 35 grams of fiber daily. The average American consumes only 15 grams of fiber every day. Whole grains, beans, fruits, vegetables, nuts and seeds are all high-fiber foods.
Eat the Right Fats. Eat more unsaturated fat (olive oil, fish, nuts, seeds) instead of saturated and trans fats (fried foods, butter, cheese, whole milk, baked goods).
Exercise. Aim to get 150 minutes of physical activity every week. No time? Park further away in the parking lot, take the stairs instead of the elevator or exercise instead of sitting during commercial breaks when watching TV.
Be a Quitter. Say no to smoking, smokeless tobacco or vaping. Smoking increases your risk for stroke and heart disease.
Margaret Mary offers a FREE Heart Healthy Living class, taught by a registered dietitian, once a month. Call 812.933.5122 to learn more, or click here. If you're in need of a heart healthy recipe, check out the below recipe.
Spinach & Lentil Soup
Serves 4 (Serving Size – 1 3/4 cups)
Ingredients
1 TBSP extra-virgin olive oil
1 1/4 cups chopped onion
3/4 cup chopped celery
3/4 cup chopped carrot
1 teaspoon chopped fresh thyme
1 bay leaf
1 cup dried brown lentils
3 cups fat-free, lower-sodium chicken broth
2 cups water
1 (6 ounce) package fresh baby spinach
1/2 cup chopped fresh basil
1/4 cup grated fresh Parmesan cheese
1 TBSP fresh lemon juice
1/8 teaspoon freshly ground black pepper
Preparation
Heat a Dutch oven over medium heat. Add oil to pan; swirl to coat. Add onion and next four ingredients (through bay leaf). Cook eight minutes or until vegetables are tender, stirring occasionally. Add lentils, broth and two cups water. Bring to a boil. Cover, reduce heat and simmer 40 minutes or until lentils are tender and mixture is slightly thickened. Remove from heat. Discard bay leaf.
Place two cups lentil mixture in a blender. Remove the center piece of blender lid (to allow steam to escape) and secure lid on blender. Place a clean towel over opening in blender lid (to avoid splatters) and blend until smooth. Return pureed lentil mixture to pan. Add baby spinach, chopped basil, Parmesan cheese, lemon juice and black pepper. Stir until spinach wilts. Serve immediately.
Nutritional Information
Calories: 255 | Fat: 4.4 grams | Saturated Fat: 1.3 grams | Protein: 16.2 grams | Carbohydrates: 38.7 grams | Fiber: 17.5 grams | Sodium: 483 mg
Recipe adapted from Cooking Light.