Pediatric Therapy
Our professional therapists help children improve their day-to-day function, as well as their self-esteem and overall independence.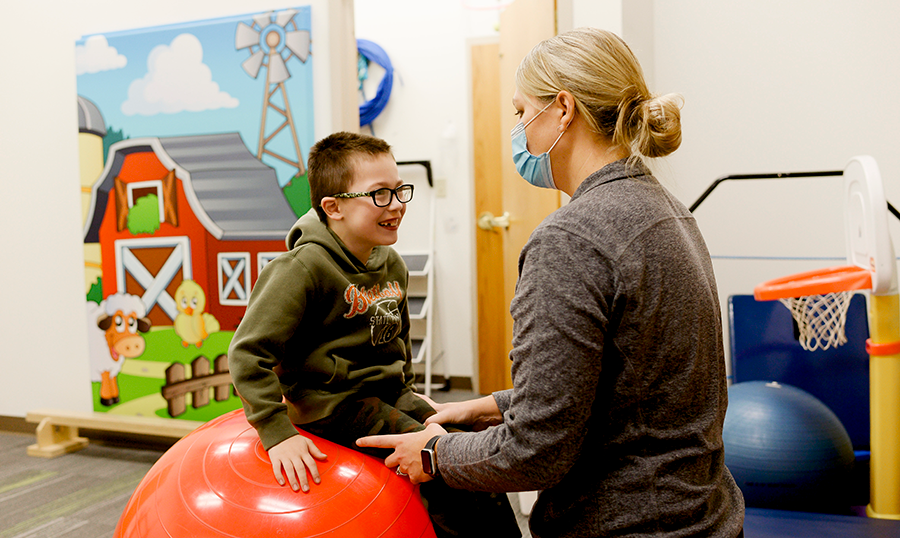 Building Independence
Through positive reinforcement, our staff uses a variety of creative techniques that challenge children while they have fun. While some children may only need one form of therapy, others may benefit from a combination of all three. If your child needs occupational therapy, our therapists can help improve the fine motor skills needed for handwriting and self care, as well as the skills needed for play and daily activities. Children receiving physical therapy will spend the majority of their time maximizing their ability to move. Our physical therapists can help your child improve their motor skills, balance, coordination, strength and endurance. If your child is in need of speech therapy, our therapists can help your child improve his or her ability to communicate wants and needs, as well as help with articulation or language delays. They can also help improve feeding, swallowing, oral motor dysfunction and cognition.
Our pediatric therapists are licensed, certified and experienced in pediatric treatment and rehabilitation. They have completed special training to help children with developmental delays, genetic syndromes, Cerebral Palsy, Spina Bifida, Autism, Torticollis, ADD and sports injuries.
Aquatic Therapy
Aquatic Therapy involves the use of a pool to assist in patient healing and performance. Patients often appreciate aquatic therapy because being submerged in water can help support one's weight, thereby decreasing stress on joints. Water also provides a natural resistance which can be beneficial in strengthening muscles, and the relaxing warmth of the water increases blood flow to injured areas. Many patients find aquatic therapy allows them to comfortably and safely perform exercises they are unable to do on land.
Sensory Integration
Sensory integration refers to how people use the information provided by their senses to give a reliable perception of what's happening in the world around them. Most people are able to use the information gathered from sights, sounds, textures, smells, tastes, and movement to respond appropriately. For others, sensory integration happens inefficiently. People with SI dysfunction have difficulty interpreting what is going on inside and outside their bodies, and therefore may not know how to respond. Children with SI dysfunction can't rely on their senses to give them an accurate picture of the world, and therefore may have trouble learning and behaving appropriately.
If you suspect your child has trouble with sensory integration, the first step is to schedule an evaluation with our occupational therapy department. A staff member will then develop a personalized treatment plan for your child that will mostly focus on everyday life activities, such as playing, doing puzzles, running, dressing, and eating.