Physical Therapy
Physical therapy is designed to restore motion, decrease pain and swelling, improve coordination, prevent injury and increase muscle strength, flexibility and endurance.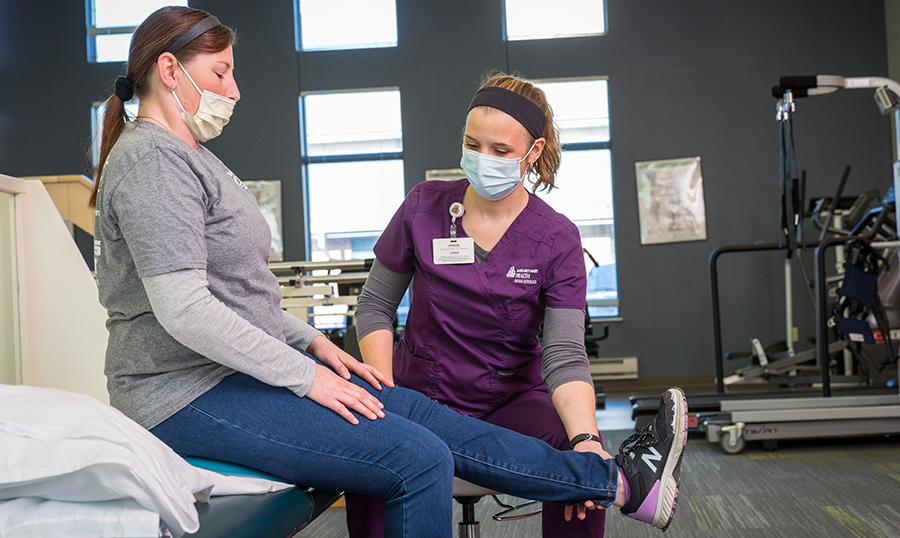 Building Independence
Chronic pain or injuries can take all the fun out of life. Physical therapists are trained to assess your condition and help you regain maximal functional mobility and independence. If you have an injury or illness that results in pain, physical impairment, or loss of function, a physical therapist can help.
Our physical therapists use physical means such as heat, cold, ultrasound, electrical stimulation, massage and therapeutic exercise to treat a variety of medical conditions and injuries. In addition to the specialty services listed to the left, our services include:
Spine care (neck and back)
Shoulder and upper extremity rehab
Lower extremity rehab (hip, knee, ankle, foot)
Amputee rehab
Gait and balance training
Pain management
Arthritis treatment
Joint replacement recovery
Treatment for neurological disorders (Stroke, Multiple Sclerosis, Parkinson's Disease)
Aquatic Therapy
Aquatic Therapy involves the use of a pool to assist in patient healing and performance. This form of therapy is especially helpful for patients with arthritis, sprains, back pain or fractured bones. Patients often appreciate aquatic therapy because being submerged in water can help support one's weight, thereby decreasing stress on joints. Water also provides a natural resistance which can be beneficial in strengthening muscles, and the relaxing warmth of the water increases blood flow to injured areas. Many patients find aquatic therapy allows them to comfortably and safely perform exercises they are unable to do on land.
Concussion Treatment
A concussion is a traumatic injury to the brain that can impact one's physical and mental capabilities. Because no two concussions are alike, a physical therapist will evaluate your condition and prescribe a treatment plan that best meets your needs. Typically, this plan includes a period of rest, followed by exercises to rebuild your strength, balance and endurance. Your physical therapist will help you add normal activities back into your life without overwhelming your brain, while teaching you how to control dizziness and headaches.
Dry Needling
Dry needling is a technique physical therapists use to relieve pain or improve range of motion. The technique uses a dry needle, one without medication, inserted through the skin into areas of the muscle. The needles are pushed directly into trigger points located in the troubled area. Dry needling can be a safe and effective treatment for those with acute and chronic conditions ranging from joint problems and tendinitis to pelvic pain and repetitive motion disorders.
Pediatric Therapy
Our professional therapists help children improve their day-to-day function, as well as their self-esteem and overall independence. Through positive reinforcement, our staff uses a variety of creative techniques that challenge children while they have fun. Learn more.
Sports Medicine
Whether you get hurt during an end-zone catch or playing 18 holes of golf, you can trust that our sports medicine team can help you get back in the game. Our team specializes in preventing, diagnosing and treating injuries caused during sports or exercise. Common injuries we treat range from dislocations and muscle cramps to sprains and shin splints. Our sports medicine team, consisting of physicians, athletic trainers and therapists, works closely with local physicians to offer comprehensive sports medicine services to the community.
Vestibular Therapy
The purpose of vestibular therapy is to improve balance and reduce problems related to dizziness. This form of therapy can help patients who suffer from blurred vision, neck stiffness, headaches, spinning and frequent falls. Following an assessment, our physical therapists will develop a customized plan specific to your needs. Common exercises include those designed to improve your vision, posture, balance and neck mobility.
Visceral Therapy
Visceral therapy is a manual treatment designed to address tension in the soft tissue around your organs, especially your abdominal area. By restoring movement of these tissues, this gentle manipulation can relieve tension in other areas of the body, allowing it to heal naturally. Visceral therapy can help in the treatment of sports injuries, low back pain, headaches, joint pain, digestive disorders, scar tissue, neck pain and pelvic concerns.
Women's Health
For far too many women, pelvic floor disorders add unnecessary stress and embarrassment to their lives. Whether caused by genetics, childbirth or age, a weakened pelvic floor can lead to urinary leakage or pain during intercourse. If you suffer from a pelvic floor disorder, our therapists are specially trained in the treatment of urinary incontinence, pelvic pain, prolapse and significant muscle tightness. While pelvic floor disorders can develop with age, they can also be caused by childbirth, heavy lifting, obesity, sexual trauma and surgery/radiation of the pelvic floor.