Ways to Give
Although monetary donations are always appreciated, there are many other ways you can give to the Foundation.
Have a question?
Call 812.933.5141.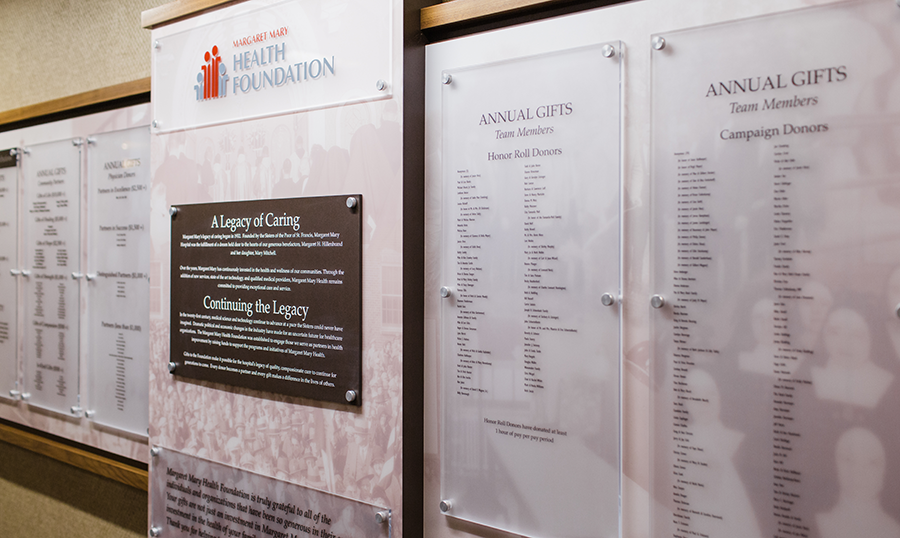 Grateful Patient Program
Maybe it was a smile, kind word or gesture which brought you or your loved on comfort. At MMH, patients often ask if there is a way for them to recognize caregivers who provided exceptional care during their stay. Through our Grateful Patient program, we invite you to make a monetary donation to the Health Foundation in your caregiver's name. Click here to make a donation.
Honor/Memorial Gifts
A gift given to celebrate, remember, honor or thank has special significance when it helps to improve the health and wellness of families in our communities. Individuals or family members of those you designate will be notified of your gift to the Foundation, but not the gift amount. You may also designate your gift to the fund of your choosing.
Event Sponsorship Opportunities
Each year, the Foundation sponsors a variety of events designed to improve the health and wellness of our communities. Each event provides a unique way to make a positive impact and enables us to support numerous programs and initiatives at MMH. Call 812.933.5141 or download our Event Partnership Opportunities Guide to learn more about event sponsorship opportunities.
Establish a Named Fund
A Named Fund is an excellent opportunity for families to establish a permanent fund in their name or in the name of someone they wish to honor or remember. It is a wonderful way to ensure their legacy of their loved one lives on for generations.
For a pledge of $50,000 or more, a donor can establish a permanent endowment in their name (or in the name of someone they wish to honor or remember). To be recognized, donors are asked to fulfill the greater of $20,000 or 20% of their total commitment, within the five-year pledge period, with the balance stipulated in writing through irrevocable means.
Upon establishing a Named Fund, the donor is able to select an area to which the annual spendable portion of the fund will be used. No money will be distributed from these funds until they have been fully funded for one year.
Join the 1932 Society
Become a member of the 1932 Society by notifying us you have included the Foundation in your estate plans. Click here to learn more about gift planning options.
Kroger Community Rewards Program
Help the Foundation earn money by registering with the Kroger Rewards Program. Register your Kroger Plus Card online at krogercommunityrewards.com and link your card to the Foundation. If you don't have a Kroger Plus Card, you can get one at the service desk. The Foundation will receive a percentage of each purchase you make.
Matching Gifts
Many employers sponsor matching gift programs and will match charitable contributions made by their employees. To find out if your company has a matching gift policy, contact your company's Human Resources department. If your company is eligible, request a matching gift form from your employer, complete it and send it to us, along with your gift. We will do the rest and the impact of your gift to our Health Foundation may be doubled or tripled!
Donate Your Vehicle
Donate a vehicle you no longer need to the Health Foundation! We accept cars, trucks, motorcycles, ATVs, motor homes, boats, trailers and many other types of vehicles. Learn more.
Gifts of Grain
Gifts of Grain is a program in which grain or other commodity crops are gifted to benefit our Health Foundation. For more information, view our Gifts of Grain brochure.