Cancer Care
There are few experiences more frightening than the diagnosis of cancer. We make sure you won't have to fight it alone.
The fight against cancer doesn't stop, even during these uncertain times. Our Cancer Center team has taken multiple steps to ensure the safety of our patients during their treatments. Click to learn more.
Hope Starts Here

At Margaret Mary's Cancer Center, our goal is to restore our patients and their families to wholeness, both emotionally and physically. Patients who choose us for their cancer care appreciate our comfortable facility and top-notch technology, but most important is finding an oncology team you can trust. At MMH, we partner with The Christ Hospital for medical oncology coverage. For our patients, this equates to expanded access to experienced, specialized oncologists and clinical trial research. Our cancer program has been accredited by the Commission on Cancer of the American College of Surgeons since 2008. This accreditation is awarded to facilities that voluntarily commit to providing high-level, quality cancer care to their patients.
"I wasn't just a number here. I was Claire."
Claire Sherman, Breast Cancer Survivor
Medical Oncology
Although receiving cancer treatments isn't exactly an enjoyable experience, most of our patients would agree receiving them at Margaret Mary's Cancer Center makes the process a whole lot easier. Chemotherapy, Biotherapy and Hormone Therapy can all be used to treat cancer. The use of these medications helps to kill or halt cancer cell growths. These medications can be administered orally or through the use of an IV.
Because treatments are often given in cycles and can take hours to administer, our goal is to make sure you are as comfortable as possible during your visit. Our medical oncology department includes six private infusion bays for patients receiving treatment. Amenities in the infusion bays include televisions, plenty of seating for loved ones and large windows overlooking a four-season healing garden. Our nurses' station is also located near the infusion bays in case you would need assistance during your stay.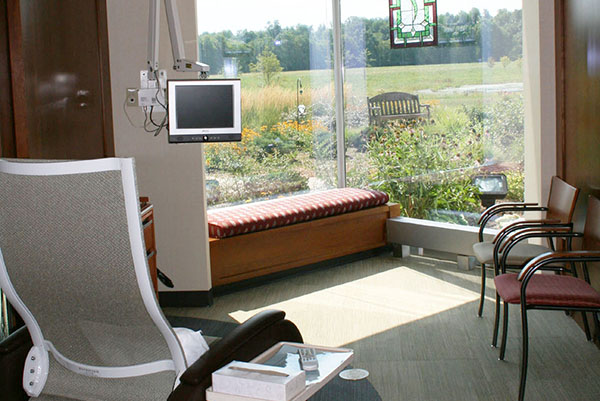 Their team approach made me confident I was in the right place.
"After visiting a couple of facilities, there was no question where I wanted to go. During my first appointment at Margaret Mary, so many professionals were there to discuss my plan. Their team approach made me confident I was in the right place."
Radiation Oncology
Our radiation oncology department offers among the most precise radiation therapy treatment available on the market today. Our advanced equipment, including a linear accelerator and CT simulator, offers diagnostic and treatment capabilities you would expect to find at a big-city facility.
Many of our patients can benefit from Intensity Modulated Radiation Therapy (IMRT), a form of radiation that uses computer-generated images to deliver a precise radiation dose that conforms to the shape of the cancerous tumor. For our patients, this equates to less radiation to surrounding healthy tissues, better outcomes overall and fewer negative side effects.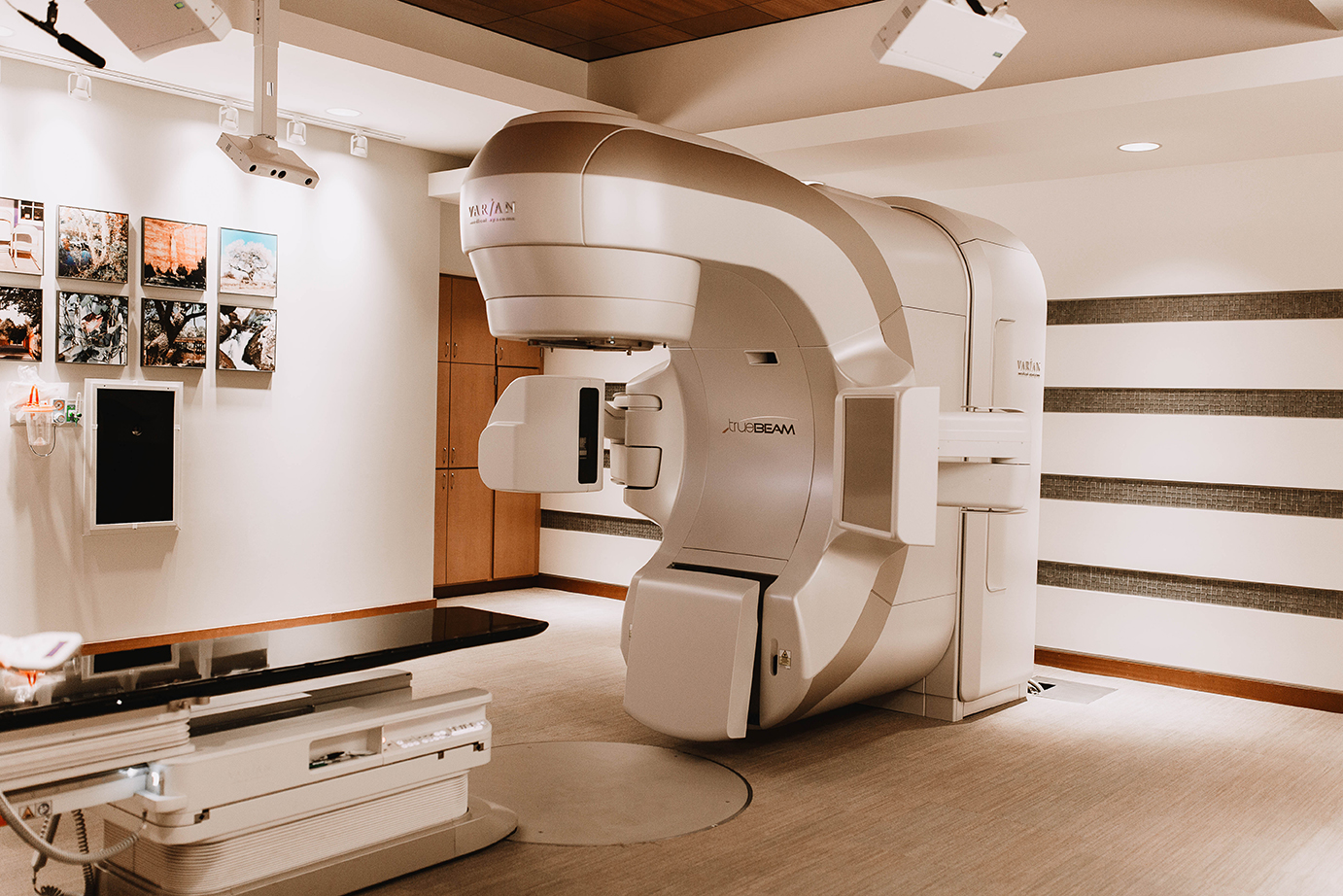 What to Expect During a Radiation Treatment
Radiation therapy is a type of cancer treatment that uses radiation to kill cancer cells. During your appointment, the linear accelerator directs a high-energy beam to a precise point on your body. The beam is made up of x-rays or electrons that damage cancer cells in targeted areas. The damaged cancer cells are unable to reproduce or repair themselves, but the damaged healthy cells often can. Our goal is to kill the cancer cells and spare the healthy cells. Radiation therapy treatments are given Monday through Friday. The number of treatments you receive depends on the type of cancer you have and will be determined by your radiation oncologist.
Most radiation therapy sessions last 10-30 minutes. The majority of this time will be spent positioning you for treatment, performing necessary imaging and addressing any concerns you might have. The radiation itself will only be on for a short portion of the time.
You will not feel anything when radiation is administered. Your radiation therapy team cares about you and will try their best to explain things as you are going through treatment. Please feel free to bring up any questions or concerns you might have.
Cancer Center Facility Tour
Here's what you can expect to find when you visit our cancer center. Take a virtual tour of our beautiful, state-of-the-art facility.