Occupational Therapy
Through the use of occupational therapy, our goal is to provide you with the skills necessary to lead an independent and satisfying life.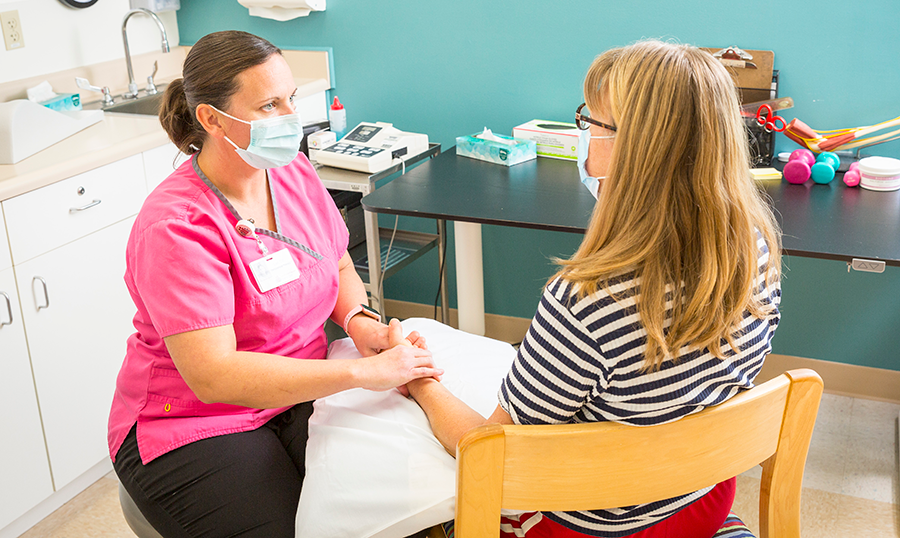 Achieving Your Full Potential
Occupational therapy is a form of rehab that focuses on helping patients complete the everyday tasks necessary for daily living. Examples include eating, bathing, using the restroom, getting dressed and cooking a meal. Our therapists work with patients of all ages who have conditions that are either mentally, physically, developmentally or emotionally disabling. We help bring patients back to their full potential by offering comprehensive evaluations, customized treatment programs and training in the use of adaptive equipment, if necessary. We can provide rehab following surgery, as well as home safety assessments. In addition to the specialty services listed to the left, we can help with the following:
Motor and sensory disorders
Cognitive and perceptual disorders
Arthritis
Head and spinal injuries
Amputations
Total joint replacements
Burns
Strokes
Neurological disorders (Multiple Sclerosis, Parkinson's Disease)
Developmental disabilities
Elbow and should injuries
Aquatic Therapy
Aquatic Therapy involves the use of a pool to assist in patient healing and performance. This form of therapy is especially helpful for patients with arthritis, sprains, back pain or fractured bones. Patients often appreciate aquatic therapy because being submerged in water can help support one's weight, thereby decreasing stress on joints. Water also provides a natural resistance which can be beneficial in strengthening muscles, and the relaxing warmth of the water increases blood flow to injured areas. Many patients find aquatic therapy allows them to comfortably and safely perform exercises they are unable to do on land. These services are offered at the Southeastern Indiana YMCA. A physician's order is required.
Breast Surgery Rehab
Patients who have undergone breast surgery often suffer from many side effects, including pain, loss of function and musculoskeletal issues. Our therapists are knowledgeable in the treatment of these issues and can be an important part of your recovery team. The goal of our rehab team is to help you regain your comfort and prior activity level through the use of gentle exercises. Your personalized treatment plan will take into account personal goals, physician recommendations and a therapist's assessment. Undergoing rehab can address pain, loss of function, scar tissue, swelling, fatigue and problems with posture.
Certified Hand Therapy
Patients who suffer from injury or chronic conditions of their upper extremities can benefit from our certified hand therapy services. Hand therapy is the science of improving the strength, function and range of motion of a person's arm, hand, wrist, shoulder, elbow or forearm. Common conditions which can benefit from hand therapy include fractures, dislocations, arthritis, carpal tunnel syndrome, nerve disorders and tendon injuries. A referral is required.
Low-Vision Therapy
Low-vision therapy helps those whose vision loss is affecting their ability to be safe and independent with everyday tasks. Our therapists can teach you to optimize your remaining vision by training you how to use adaptive equipment and modify activities both at home and at work. We can assist if you have low vision caused by a variety of conditions, including macular degeneration, cataracts, diabetic retinopathy, glaucoma, injuries, infections, cancers and Multiple Sclerosis. A referral is required.
Lymphedema Treatment
Lymphedema is a disease of the system that regulates how much fluid is held in the body's tissues. When fluids do not drain properly, excessive swelling can occur. Lymphedema can be caused by surgery, cancer, radiation treatments, infections or injuries.
Our certified lymphedema therapists are specially trained to treat this chronic swelling, as well as any related pain and skin changes. We can assist in providing appropriate, comfortable, well-fitting compression garments or help in getting a lymphedema pump, if necessary. Common treatments for lymphedema include therapeutic exercises, wrapping of the affected body part, manual lymphatic drainage, skin care and education on how to maintain control of swelling at home. A referral is required.
Pediatric Therapy
Our professional therapists help children improve their day-to-day function, as well as their self-esteem and overall independence. Through positive reinforcement, our staff uses a variety of creative techniques that challenge children while they have fun. Learn more.