Rehabilitation
Our goal is to not only help you get better, but to help you live life to its fullest.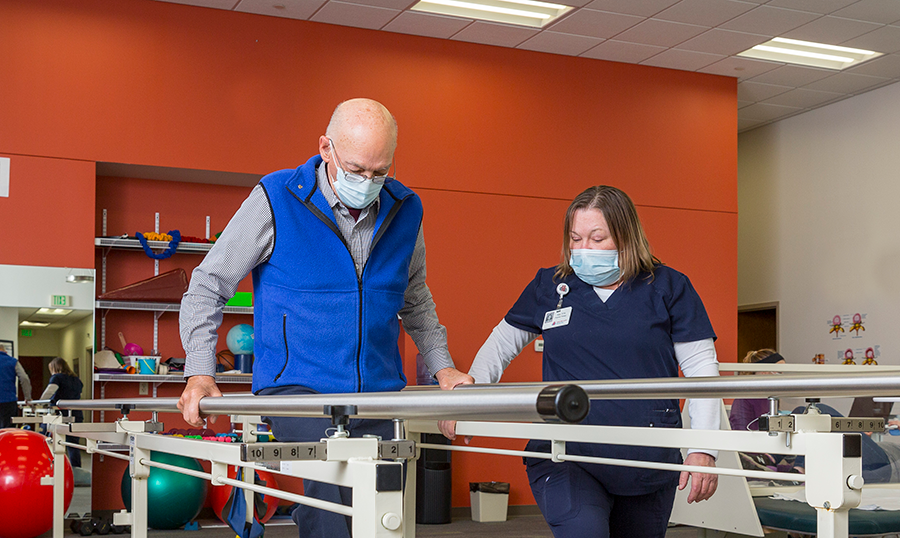 Rehabilitation
Located on State Road 129 in Batesville, our Outpatient Rehab Center is home to our physical, occupational and speech therapy services, as well as a variety of specialty services. Our rehab center offers a spacious gym, specialized pediatric spaces and state-of-the-art equipment.
Whether you are recovering from a stroke or recently had orthopaedic surgery, rehab is key to helping you obtain the best possible results. Our team of skilled therapists works closely with you, your physician and your family to help develop a treatment plan that best meets your needs.
"Every time patients walk in, they're impressed."
Lori Yorn, OT
Physical Therapy
Chronic pain or injuries can take all the fun out of life. Physical therapy is designed to restore motion, decrease pain/swelling, improve coordination, prevent injury and increase muscle strength, flexibility and endurance. Our physical therapists use physical means such as heat, cold, ultrasound, electrical stimulation, massage and therapeutic exercise to treat a variety of medical conditions and injuries. Our services include:
Spine care (neck and back)
Shoulder and upper extremity rehab
Lower extremity rehab (hip, knee, ankle, foot)
Amputee rehab
Sports injury care
Aquatic therapy
Gait and balance training
Pain management
Arthritis treatment
Joint replacement recovery
Therapy for developmental delays
Neurological disorders (Stroke, Multiple Sclerosis, Parkinson's Disease)
Vestibular therapy
For more information on Physical Therapy services email Carmen Pride or call 812.934.6638.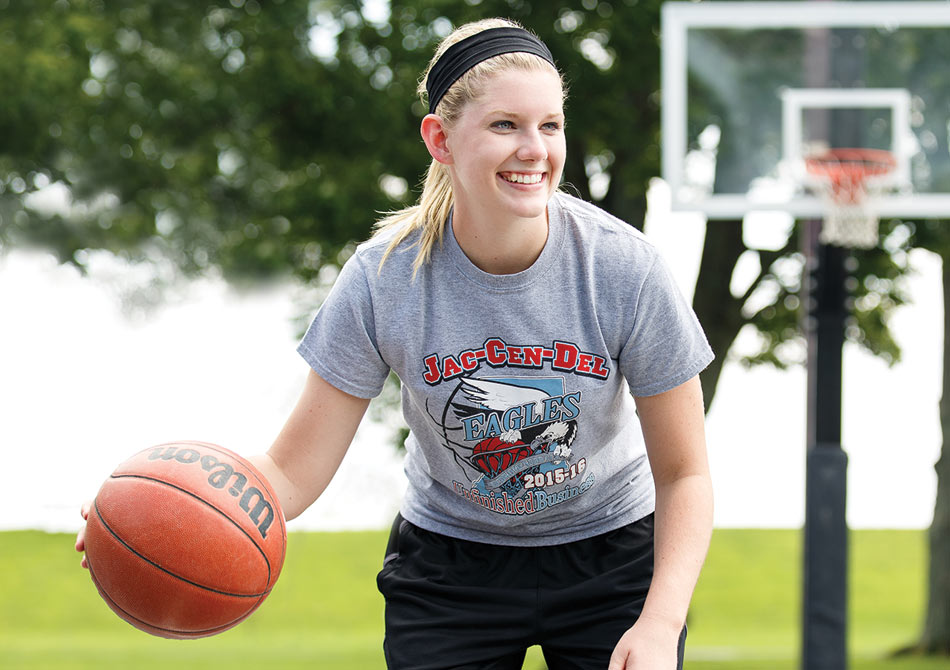 Occupational Therapy
Through the use of occupational therapy, our goal is to provide you with the skills necessary to lead an independent and satisfying life. Our therapists work with patients of all ages who have conditions that are either mentally, physically, developmentally or emotionally disabling. We help bring patients back to their full potential by offering comprehensive evaluations, customized treatment programs and training in the use of adaptive equipment, if necessary. We can provide rehab following surgery, as well as home safety assessments. We also treat the following:
Motor and sensory disorders
Cognitive and perceptual disorders
Arthritis
Head and spinal injuries
Amputations
Total joint replacements
Burns
Head trauma
Strokes
Joint replacements
Neurological disorders (Multiple Sclerosis, Parkinson's Disease)
Developmental disabilities
Hand injuries
Elbow and shoulder injuries
For more information on Occupational Therapy services email Carmen Pride or call 812.934.6638.
Speech Therapy
Many people can benefit from speech therapy. Children may exhibit language delays, stuttering or difficulty pronouncing certain sounds. For adults, speech therapy is often beneficial following a medical issue, such as a stroke, or for health conditions like Parkinson's Disease or MS. Our speech therapists are specially trained in the diagnosis and treatment of anyone with communication or swallowing difficulty. Not sure if you or a loved one could benefit from this service? Call us for a free speech, language or hearing screening. Our program includes evaluation and treatment of:
Apraxia of speech
Auditory processing disorders (APD)
Augmentative communication (AC)
Autism spectrum disorder
Down syndrome
Early intervention (EI)
Feeding and swallowing disorders
Fluency disorders (stuttering)
Cerebral Palsy
Articulation therapy
Receptive and expressive language delays
Voice issues
For more information on Speech Therapy, email Carmen Pride or call 812.934.6638. Fax referrals to 812.934.6219.
Sports Medicine
Whether you get hurt during an end-zone catch or playing 18 holes of golf, you can trust that our sports medicine team can help you get back in the game. Our team specializes in preventing, diagnosing and treating injuries caused during sports or exercise. Common injuries we treat range from dislocations and muscle cramps to sprains and shin splints.
Our sports medicine team, consisting of physicians, athletic trainers and therapists, works closely with local physicians to offer comprehensive sports medicine services to the community. In the spring, we partner with physicians to offer sports physicals to local students. Appointments may be scheduled with our primary care providers and pediatricians.
For more information on sports medicine, email Carmen Pride or call 812.934.6638.
Pediatric Therapy
Our professional therapists help children improve their day-to-day function, as well as their self-esteem and overall independence. Through positive reinforcement, our staff uses a variety of creative techniques that challenge children while they have fun. Our pediatric patients are seen in a dedicated treatment room designed just for kids.
While some children may only need one form of therapy, others may benefit from a combination of all three. If your child needs occupational therapy, our therapists can help improve the fine motor skills needed for handwriting and self care, as well as the skills needed for play and daily activities. Children receiving physical therapy will spend the majority of their time maximizing their ability to move. Our physical therapists can help your child improve their motor skills, balance, coordination, strength and endurance. If your child is in need of speech therapy, our therapists can help your child improve his or her ability to communicate wants and needs, as well as help with articulation or language delays.
Our pediatric therapists are licensed, certified and experienced in pediatric treatment and rehabilitation. They have completed special training to help children with developmental delays, genetic syndromes, Cerebral Palsy, Spina Bifida, Autism, Torticollis, ADD and sports injuries.
To learn more about our pediatric therapies, call 812.934.6638.
Aquatic Therapy
Aquatic therapy can be a great option for patients who need to gain strength and balance but aren't ready for a land-based workout. Often the warm water helps patients relax and perform movements with less pain. Aquatic therapy services are offered at the Southeastern Indiana YMCA.
By exercising the injured area in water, less impact is put on the injury as it is stretched and strengthened. This helps prevent the damage that can occur after an injury, such as stiffening and loss of circulation and muscle size. Aquatic therapy is appropriate for treating the following conditions:
Orthopaedic disorders – shoulders, back, hip and knee
Arthritis
Chronic pain
Stroke
Head injury
Spinal cord injuries
Cerebral Palsy
Spina Bifida
Progressive neurological disorders – Multiple Sclerosis, Parkinson's Disease
Post-surgical diagnoses
Sensory integration disorders
Available for all ages, from children to older adults, aquatic therapy can improve circulation, decrease joint pain, increase muscle relaxation and improve overall strength, endurance and coordination. A physician's order is required.
To learn more about aquatic therapy, email Carmen Pride or call 812.934.6638.
Breast Surgery Rehab
Patients who have undergone breast surgery often suffer from many side effects, including pain, loss of function and musculoskeletal issues. Our therapists are knowledgeable in the treatment of these issues and can be an important part of your recovery team. The goal of our rehab team is to help you regain your comfort and prior activity level through the use of gentle exercises. Your personalized treatment plan will take into account personal goals, physician recommendations and a therapist's assessment. Undergoing rehab can address:
Loss of movement
Pain
Loss of strength
Scar tissue
Swelling and Lymphedema
Wound care
Loss of function
Problems with posture
Fatigue
To learn more about breast surgery rehab, call 812.934.6638.
Lymphedema Treatment
Lymphedema is a disease of the system that regulates how much fluid is held in the body's tissues. When fluids do not drain properly, excessive swelling can occur. Lymphedema can be caused by surgery, cancer, radiation treatments, infections or injuries.
Our certified lymphedema therapists are specially trained to treat this chronic swelling, as well as any related pain and skin changes. We can assist in providing appropriate, comfortable, well-fitting compression garments or help in getting a lymphedema pump, if necessary. Common treatments for lymphedema include:
Therapeutic exercises
Wrapping of affected body part
Manual lymphatic drainage
Skin care
Education on precautions and how to maintain control of swelling at home
While a cure for lymphedema does not exist, proper care can improve the condition and dramatically affect a person's quality of life.
A physician's referral is needed for evaluation or treatment. Email Carmen Pride or call 812.934.6638.
Sensory Integration
Sensory integration refers to how people use the information provided by their senses to give a reliable perception of what's happening in the world around them. Most people are able to use the information gathered from sights, sounds, textures, smells, tastes, and movement to respond appropriately. For others, sensory integration happens inefficiently. People with SI dysfunction have difficulty interpreting what is going on inside and outside their bodies, and therefore may not know how to respond. Children with SI dysfunction can't rely on their senses to give them an accurate picture of the world, and therefore may have trouble learning and behaving appropriately.
If you suspect your child has trouble with sensory integration, the first step is to schedule an evaluation with our occupational therapy department. A staff member will then develop a personalized treatment plan for your child that will mostly focus on everyday life activities, such as playing, doing puzzles, running, dressing, and eating.
Low-Vision Therapy
Low vision therapy helps those whose vision loss is affecting their ability to be safe and independent with everyday tasks. Our therapists can teach you to optimize your remaining vision by training you how to use adaptive equipment and modify activities both at home and at work. We can assist if you have low vision caused by the following conditions:
Macular degeneration
Cataracts
Diabetic retinopathy
Glaucoma
Eye injuries
Infections
Multiple Sclerosis
Cancers
Retinitis pigmentosa
A physician's referral is needed for evaluation or treatment. Email Carmen Pride or call 812.934.6638.